Special Effects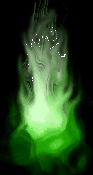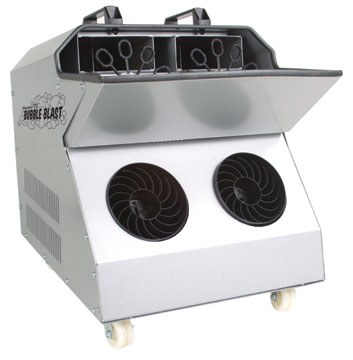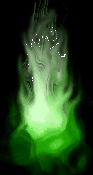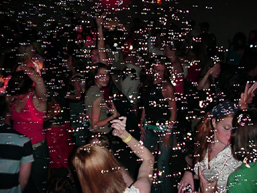 Bubble Blast plus lights add a very cool effect to any kind of high energy party.
Bubble Blast
Massive dual fan output technology produces 100's of bubbles per minute
• Secondary dual fan lift system forces bubbles to rise high into the air
• Easy top-load bubble liquid filling container
• Bubble liquid drainage valve system allows for easy clean-up
• Uses most types of bubble liquid
• On/Off switch on rear on unit
• Wheels and dual handles for easy transport
• Includes remote with Timer Control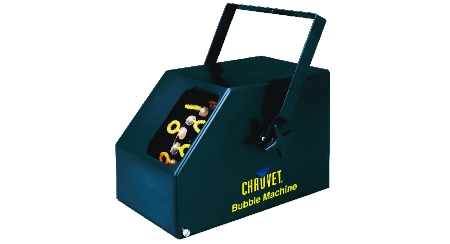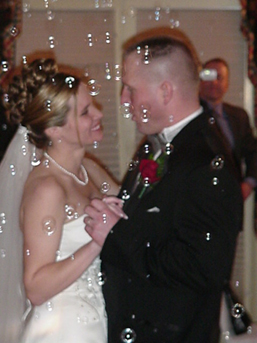 Bubbles add a very romantic effect to one's first dance.
Bubble Machine
Lighten the mood of any event with our bubble machine. Always a hit with the children, our bubble machine adds some fun to your dance floor. Add some romance to your slow dances, or help pump up the party with that little extra touch
.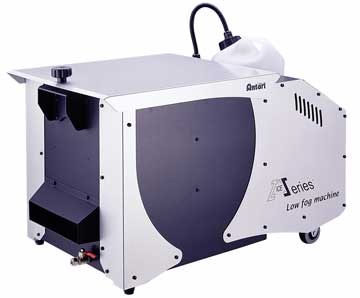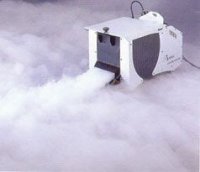 Low Fog
This revolutionary machine is the first of its kind. It produces the ever popular, low lying "heavy" smoke of a dry ice machine, without the inconvenience of dry ice or the potential health hazards caused by dry ices heavily CO2 laden smoke. Place up to 10 kg of ice into the ice chamber to cool the smoke produced by the 1000W smoke machine contained in this unit. Then watch the floor disappear in ankle deep smoke. Never before has one machine offered this unique, affordable function. 10 kg of ice placed in the ice chamber can last up to 12 hours or 80 minutes with constant use. Full DMX on board means 100% control along with an output for separate units, and the timer remote puts that control in the palm of your hands. Drainage pump can be activated manually or set to automatic for optimum convenience. Try it out for yourself and you'll never go back.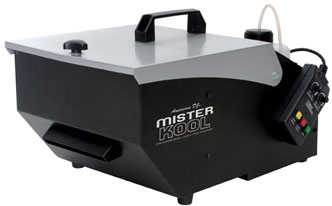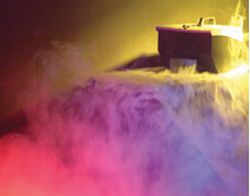 Mister Kool
• Low-lying fog stays low to the ground–similar to a dry ice effect
• Uses standard fog juice and ice cubes
• No need for expensive fog chillers, bulky air conditioning units or dry ice
• Includes timer remote with On/off switch
• Perfect for Halloween and theatrical events
• Load up to 4 pounds of ice in the chiller box
• Water drainage valve system allows for easy cleanup. Water drains directly into the provided plastic bag.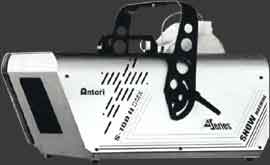 Snow
Like the original S-100 snow machine, the S-100 II is a powerful, high-pressure, large-output machine that produces abundant amounts of "snow". Owing to the built-in blower, the effect can be spread over considerable distances. The hanging bracket allows the snow machine to be placed over a crowd or above a set to simulate falling snow. The durable motor is cradled on rubber cushions within the case allowing for high output and low vibration. The SC-1 remote control gives 100% control over both area coverage and volume of snow produced. The S-100 II has DMX on board and can be controlled using 2 channels via any standard DMX controller, This light, portable machine is perfect for club effects, movie sets and stage settings so let it snow, let it snow, let it snow.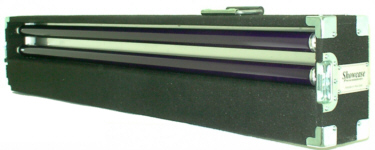 Black Light
Halloween party? DIsco party? Our black light makes just about anything glow in the dark, adding fun and excitement to your next event. For whatever kind of party you're having, get that groovy retro feel with our black light.