A Little Note about References...
From time to time, people request references from us to help them put their mind at ease about using us as their entertainment. Making sure that your entertainers are the "Professionals" they claim to be is very important. Atlantic Coast Entertainment gets literally hundreds of "Thank You" cards each and every year, from clients with many different entertainment needs. We have posted a small sample of the "Thank You" notes in varying forms from Past Clients below. If you would like to view all of our client "Thank You" cards you can stop by our office and read as many of them as you like. Please understand that even though many clients we have performed for have told us that we can use them as references and we appreciate that very much, we respect our clients privacy and will NEVER give out personal phone numbers to contact them regarding our past work with them. We will however, provide you with "Professional References" from Banquet Managers, Caterers, Photographers, Videographers and other professionals that have actually seen Atlantic Coast Entertainment perform, which are located at the bottom of the page.
Past Clients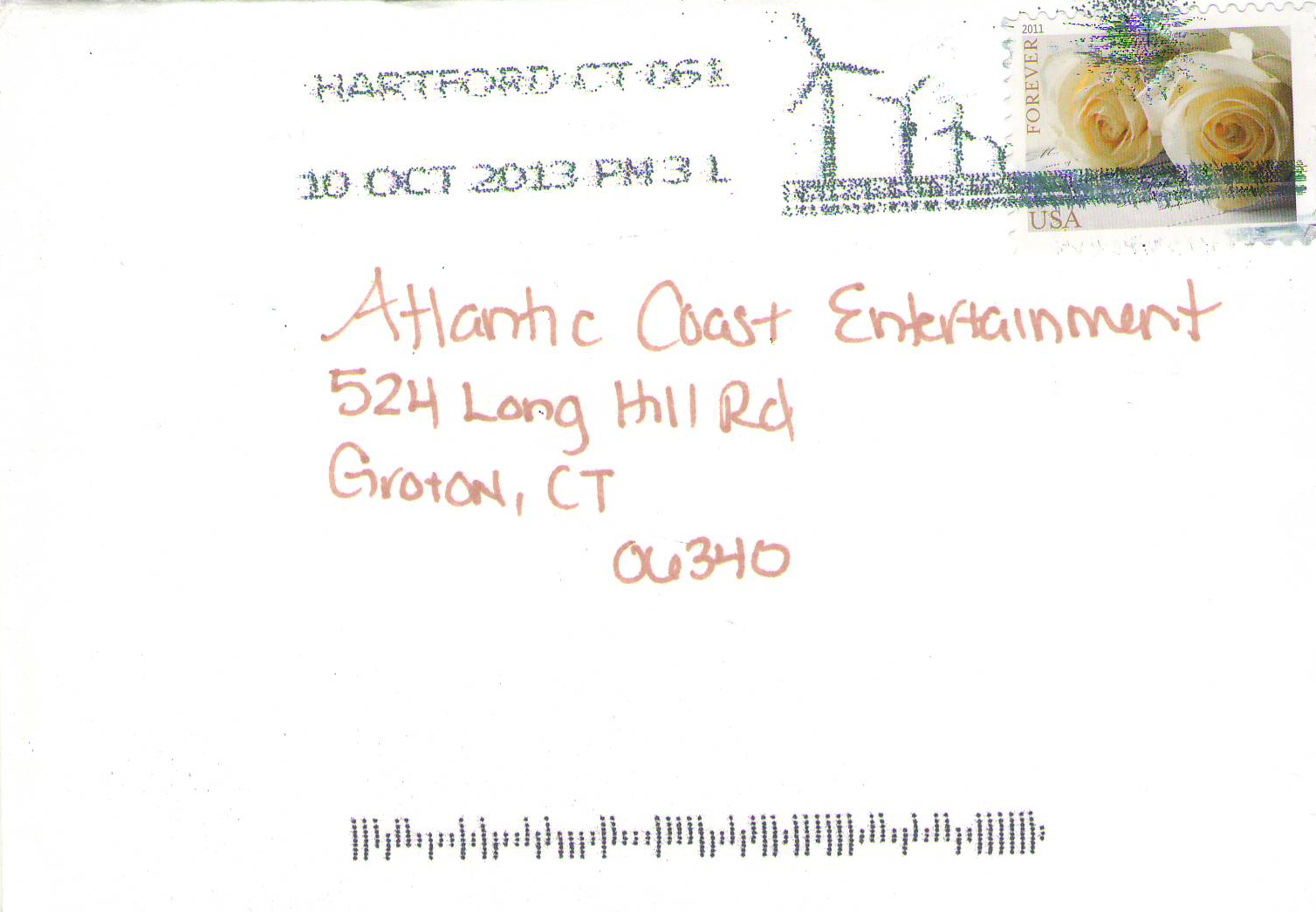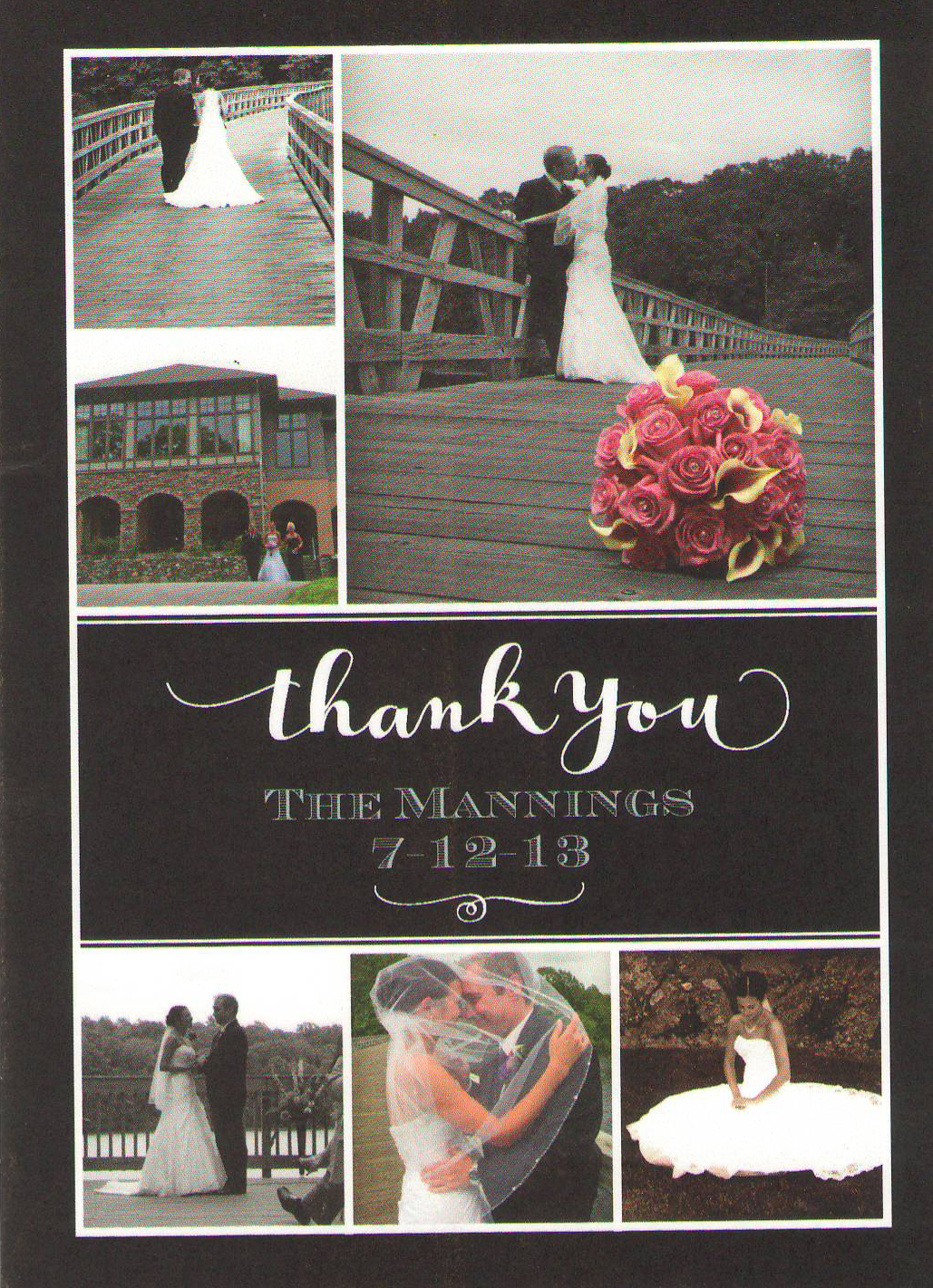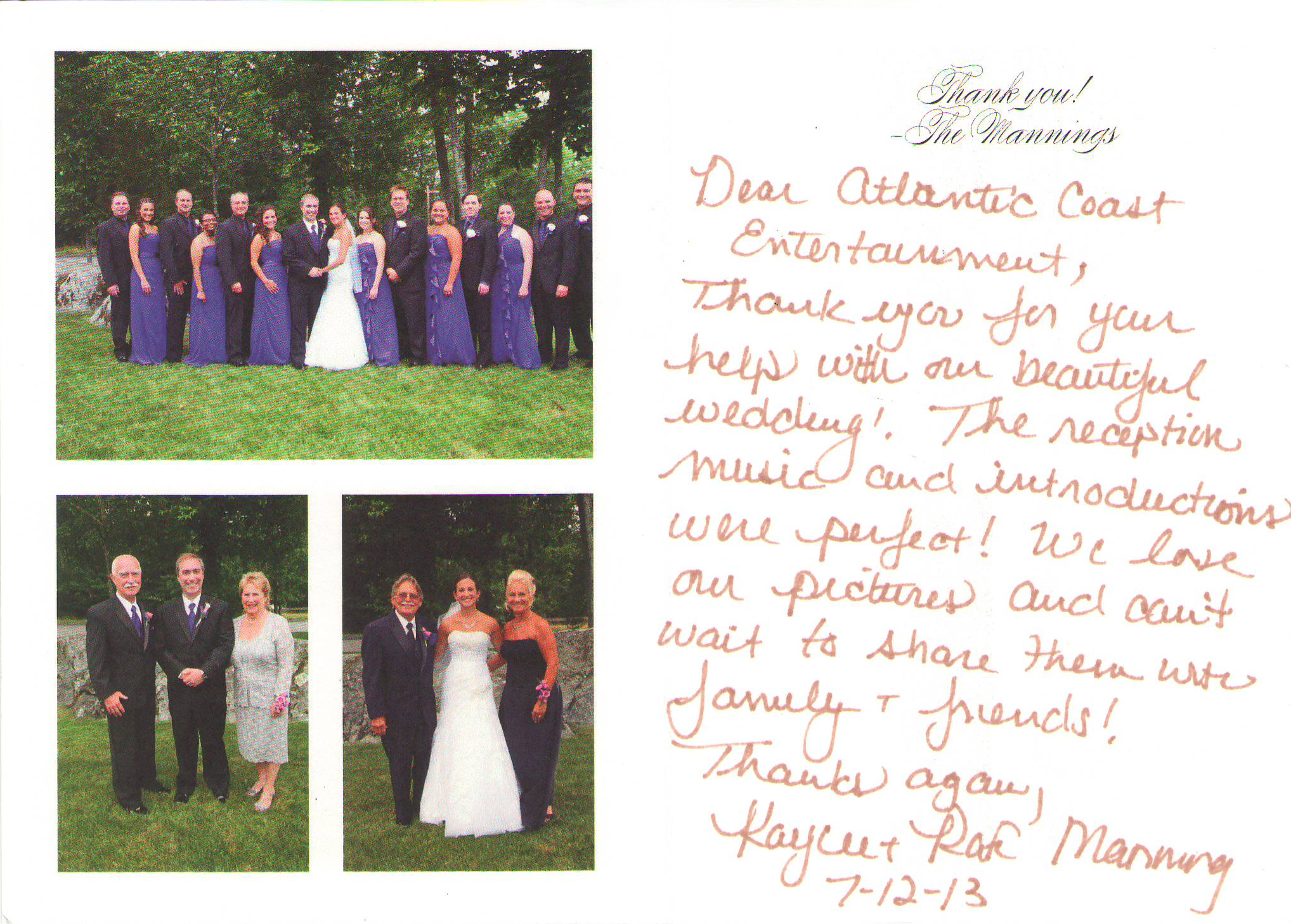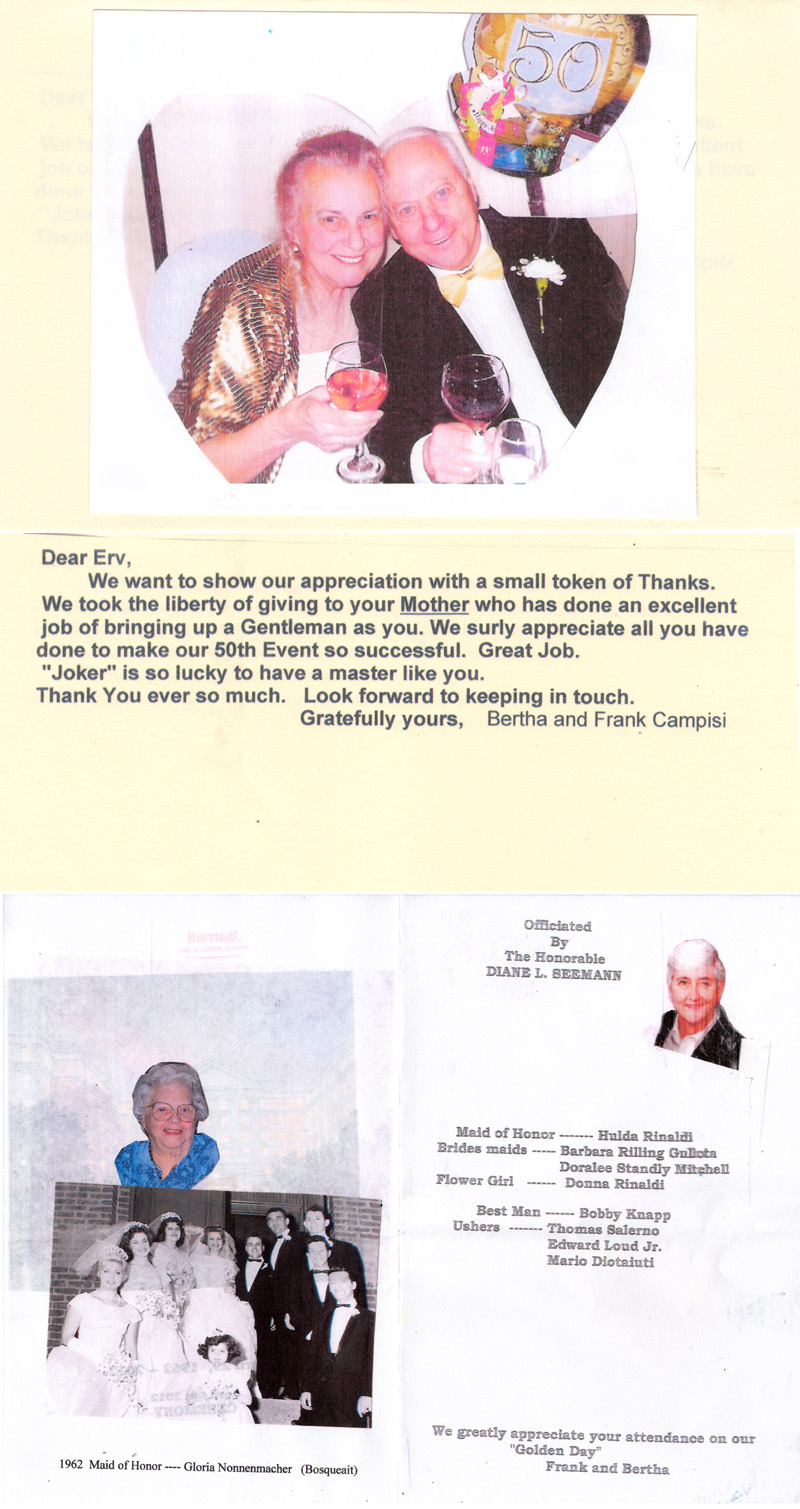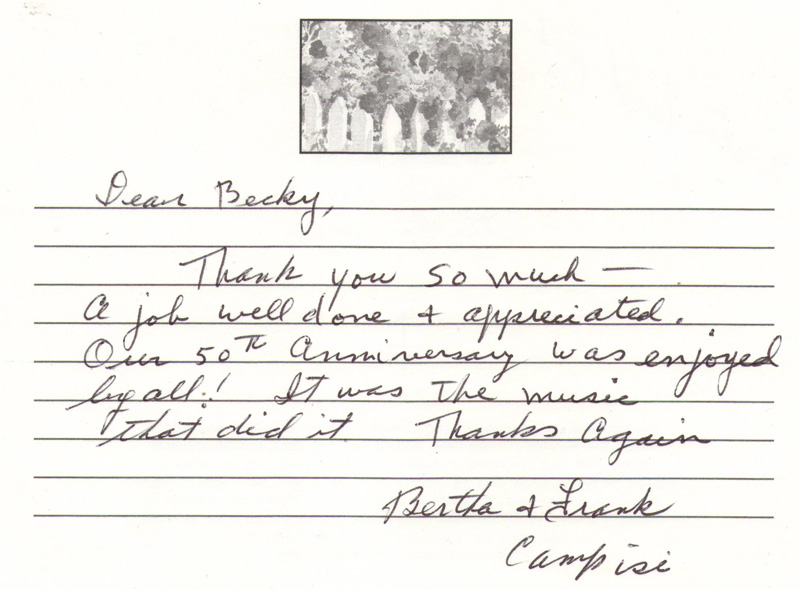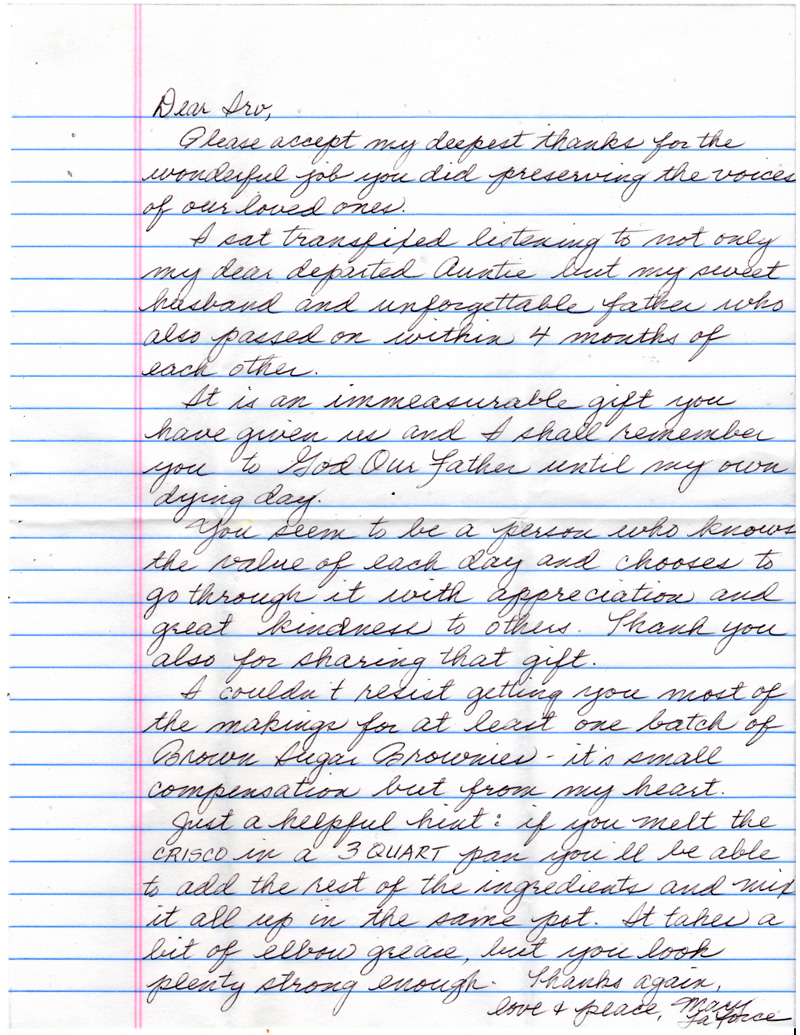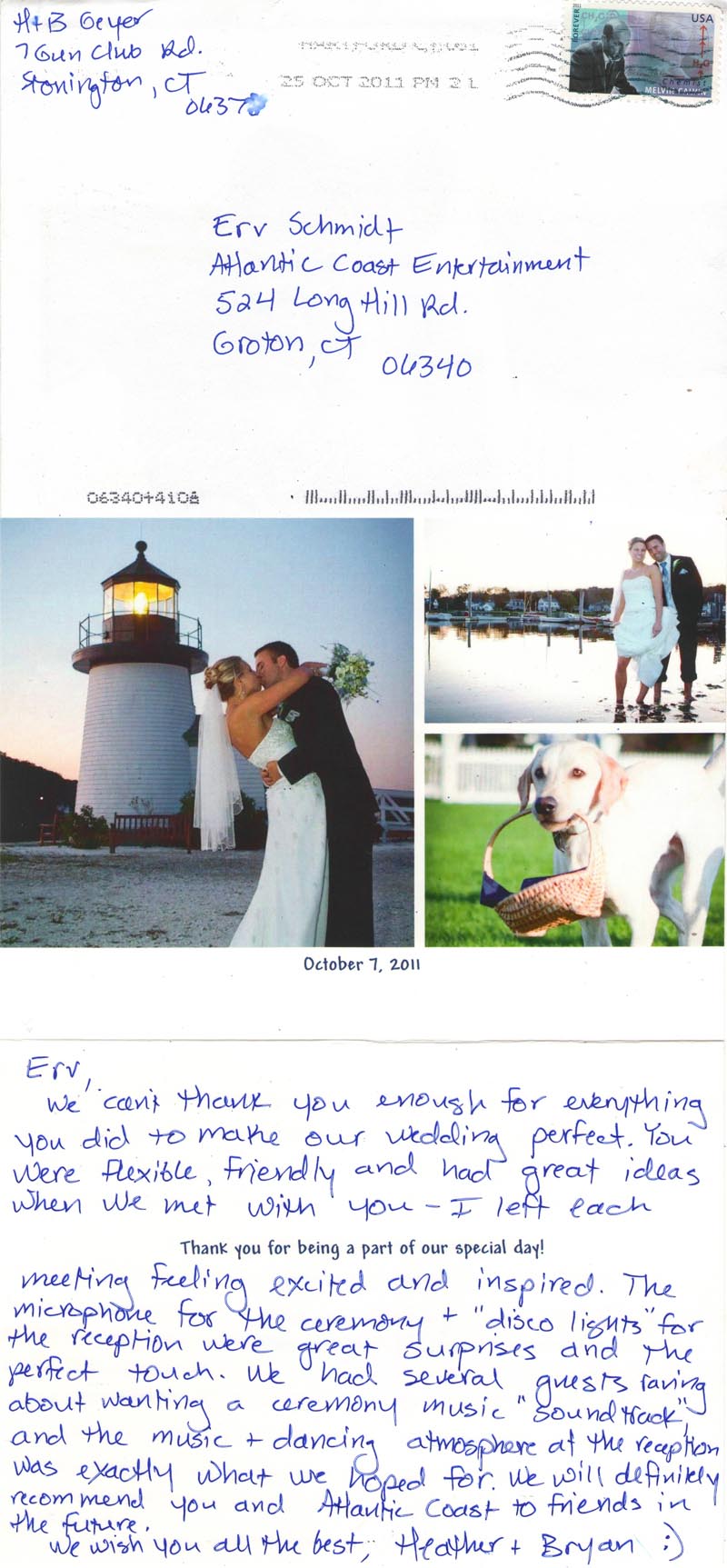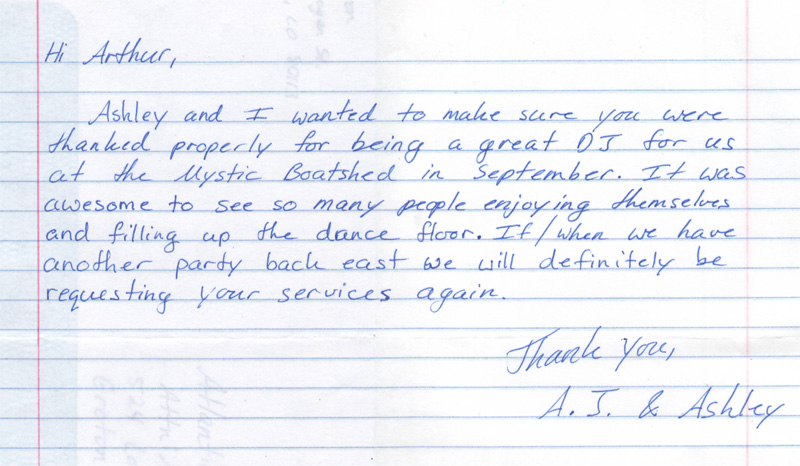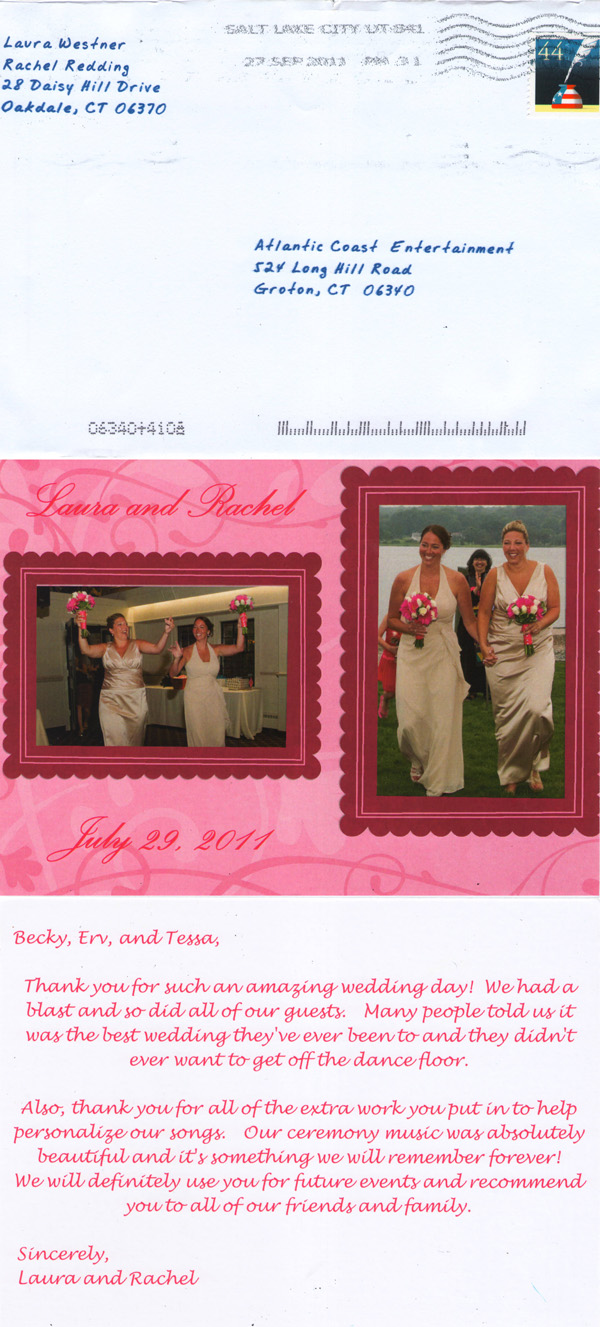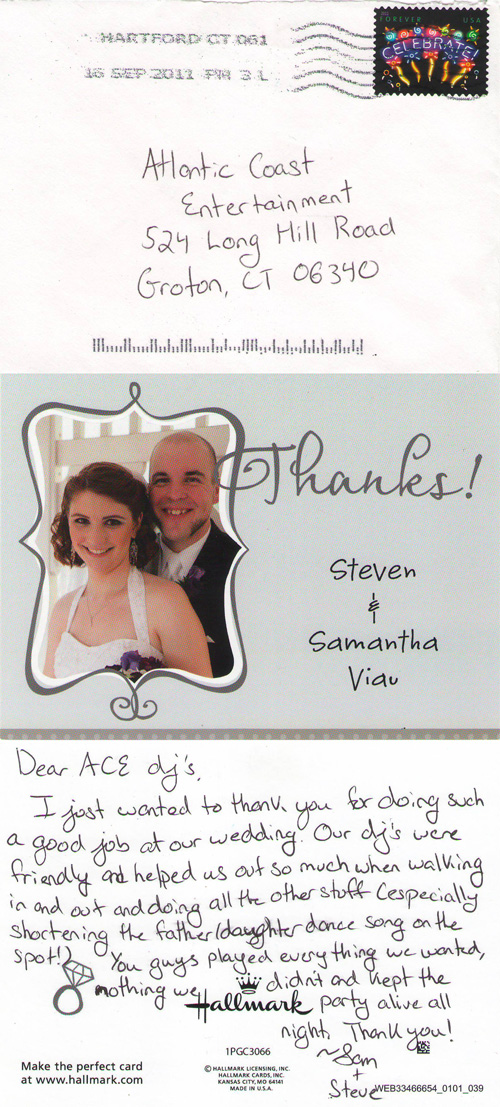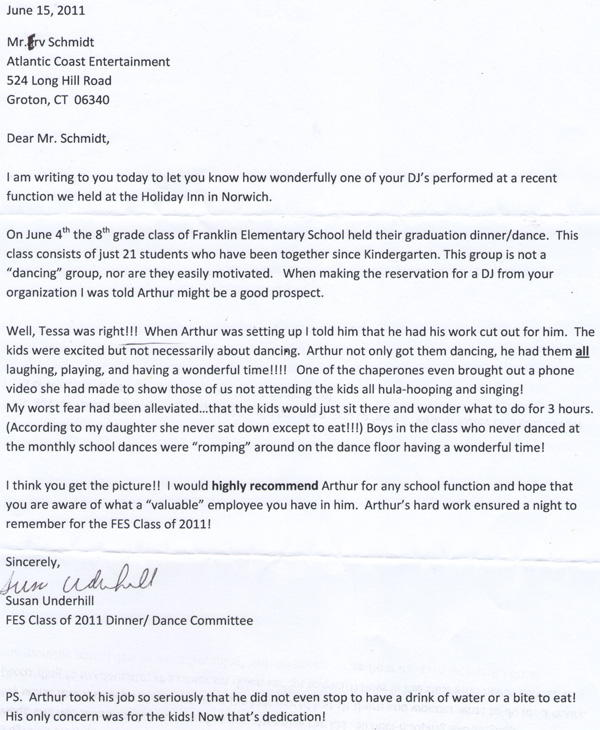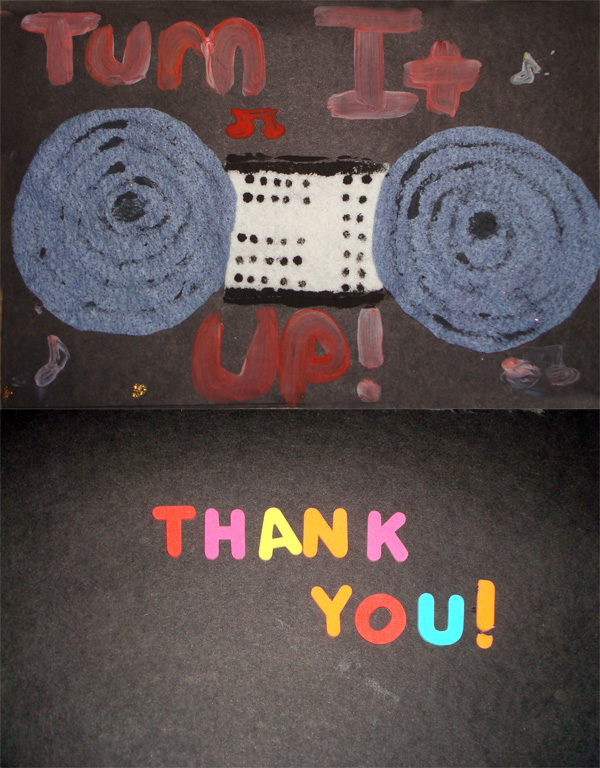 A thank you card for DJ Becky Clark from the kids at Camp Harkness.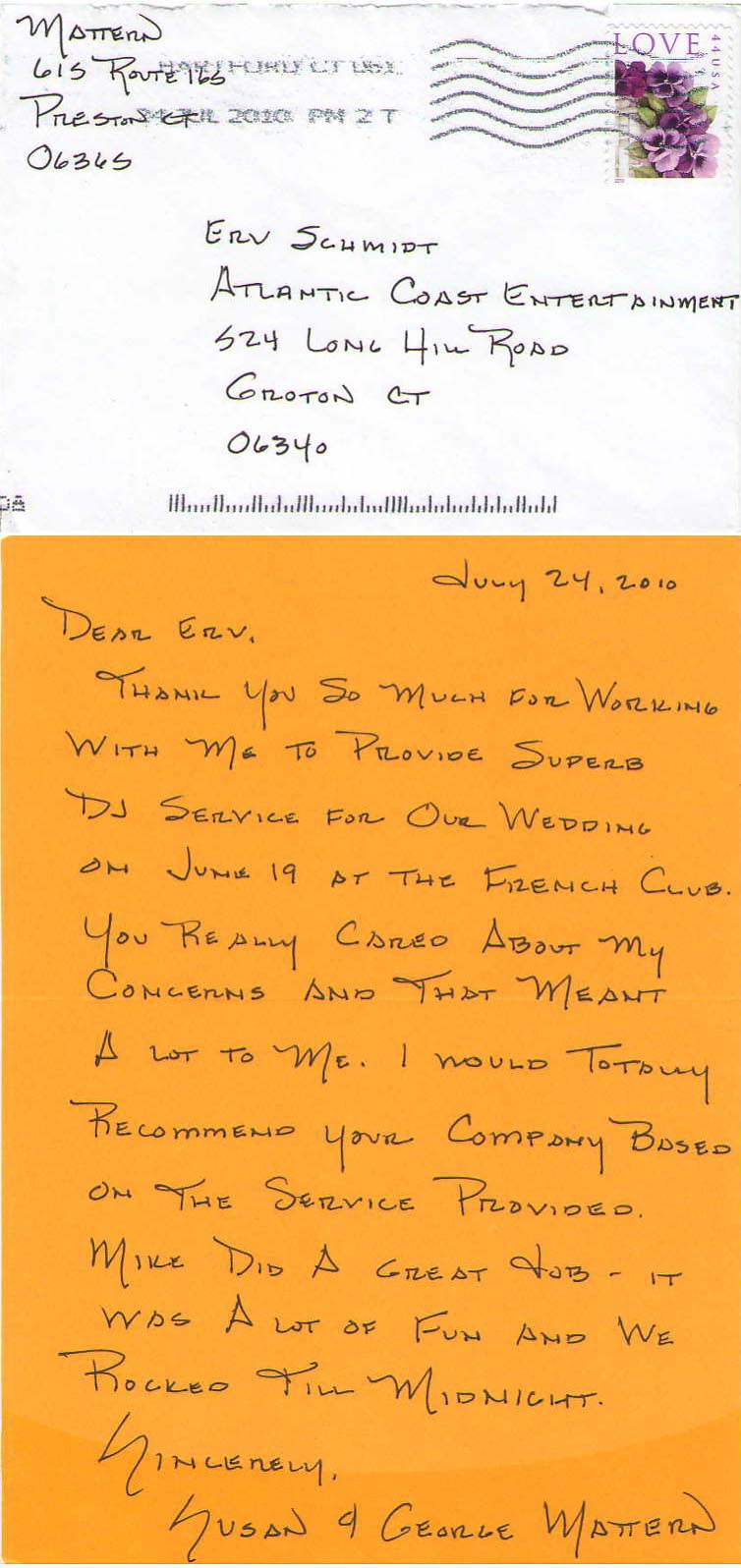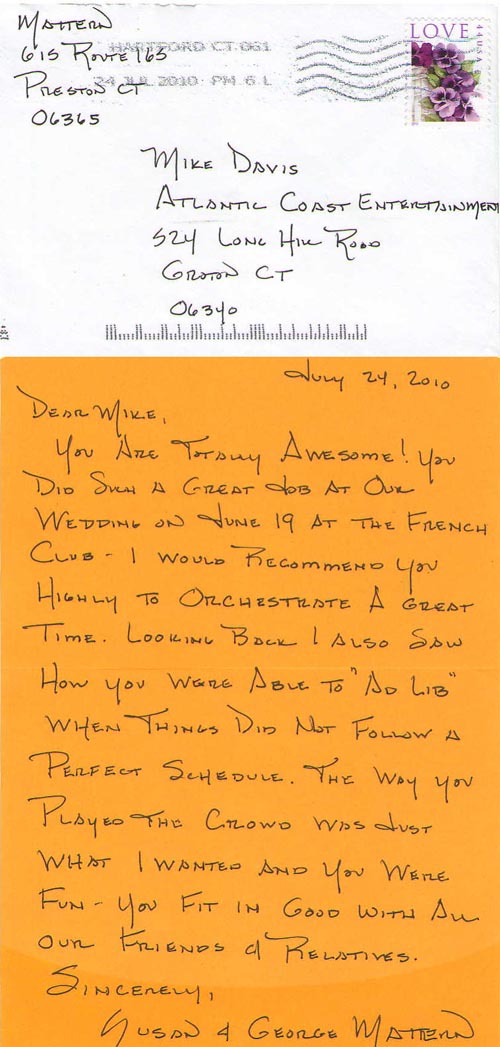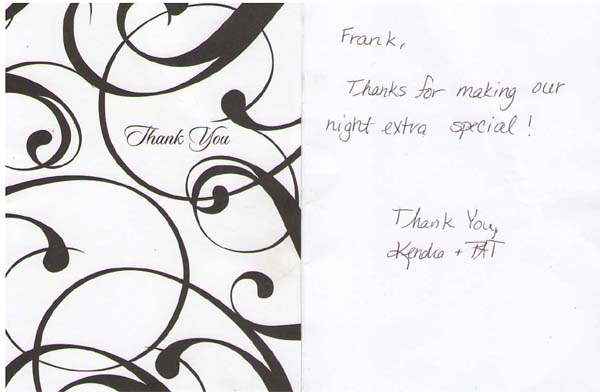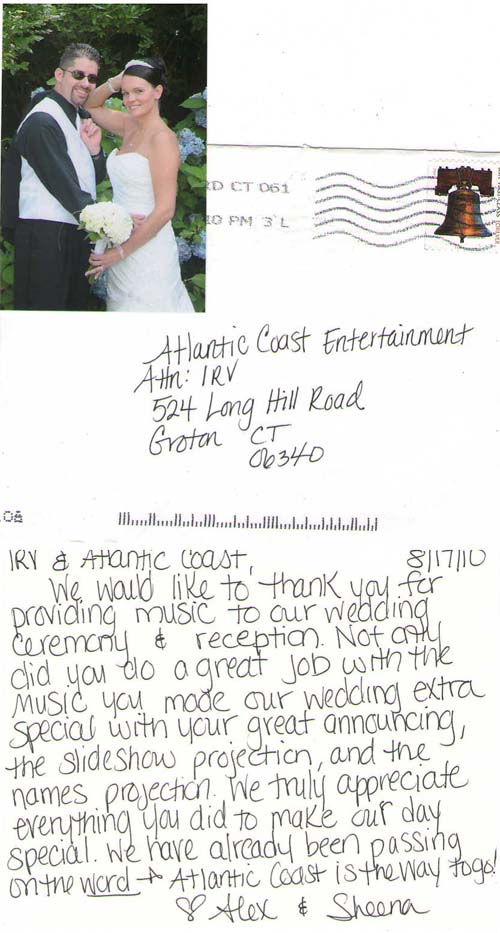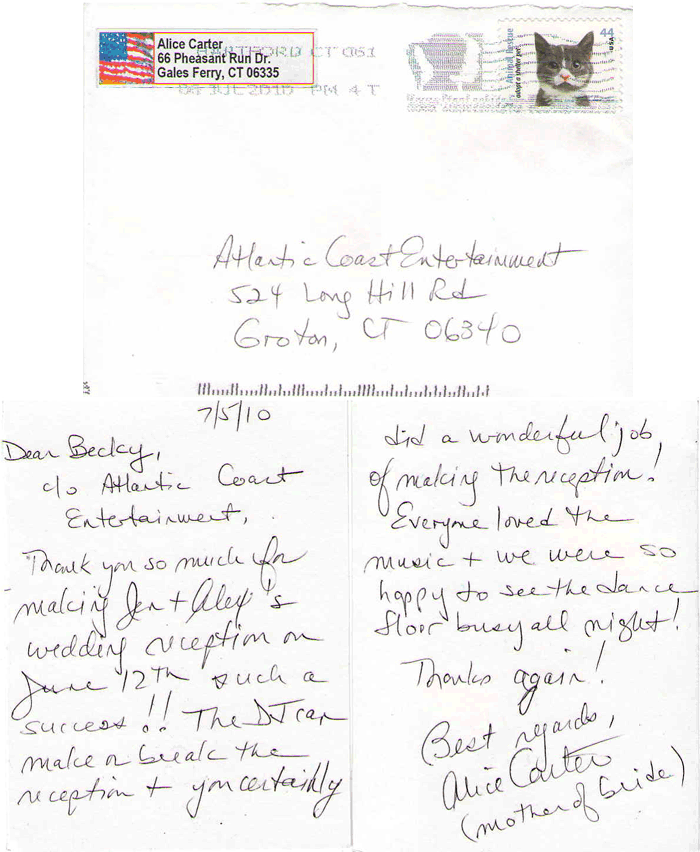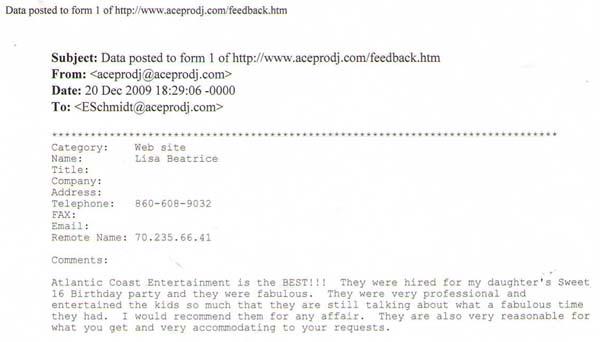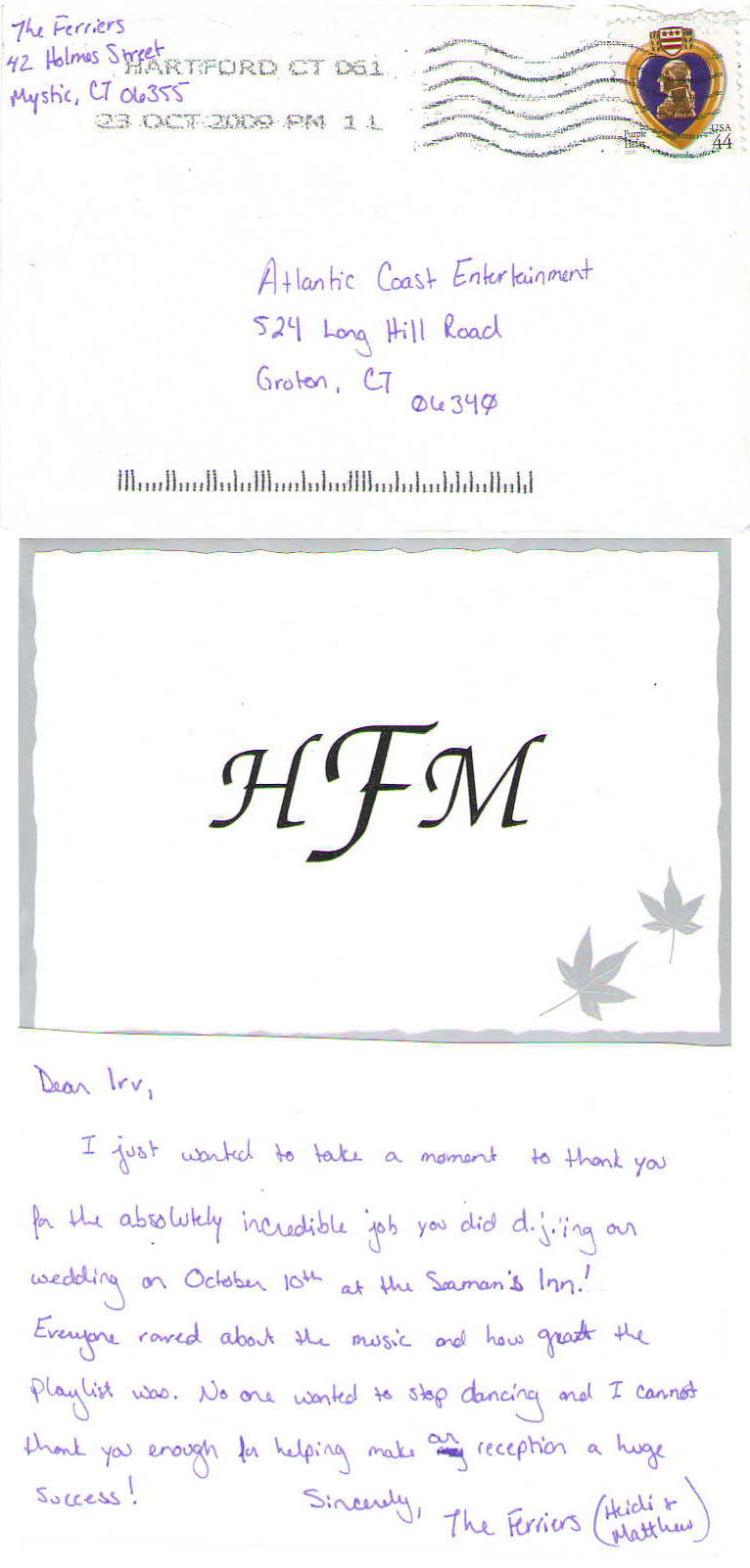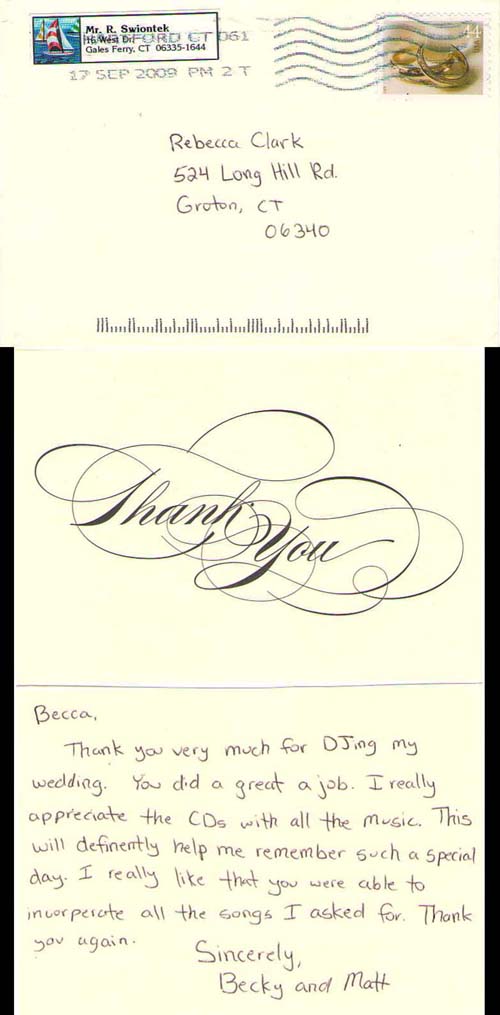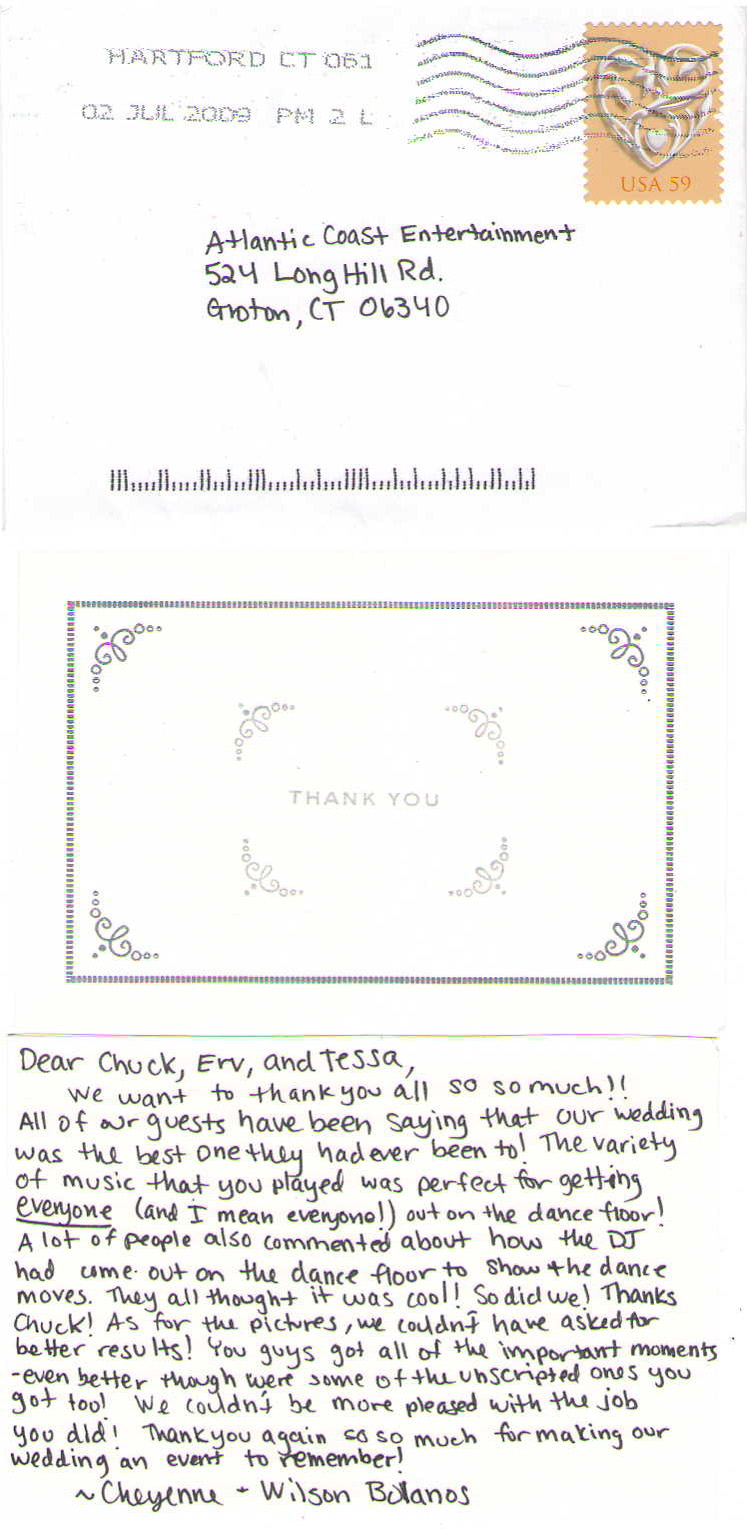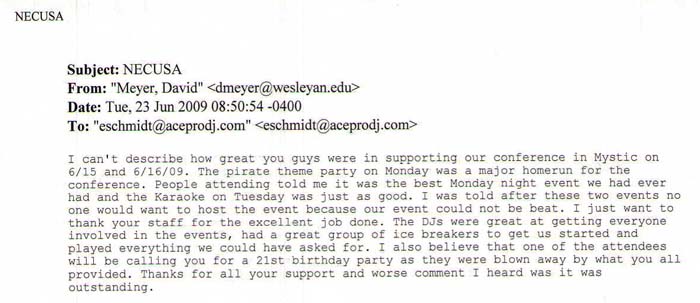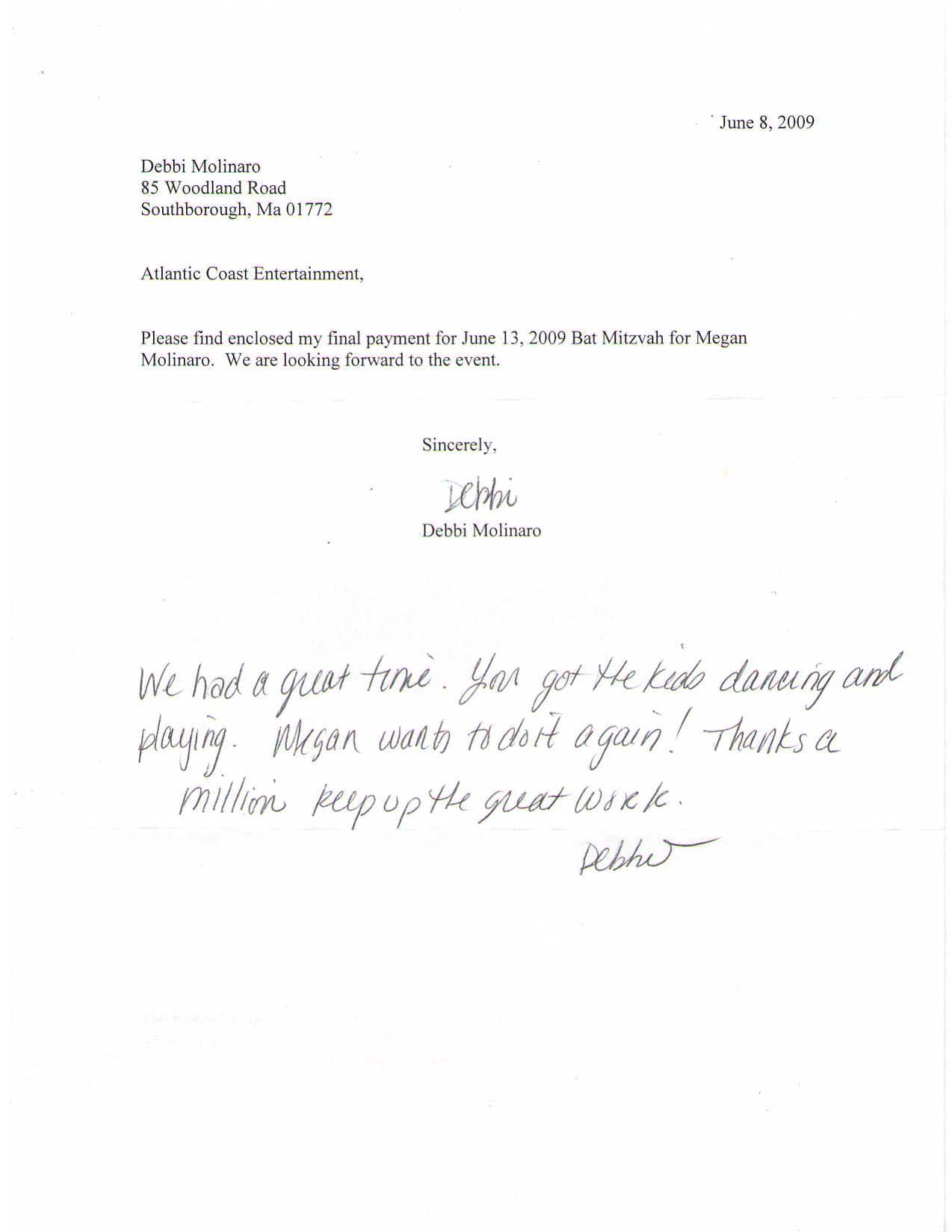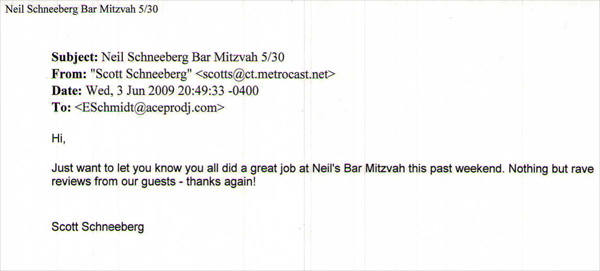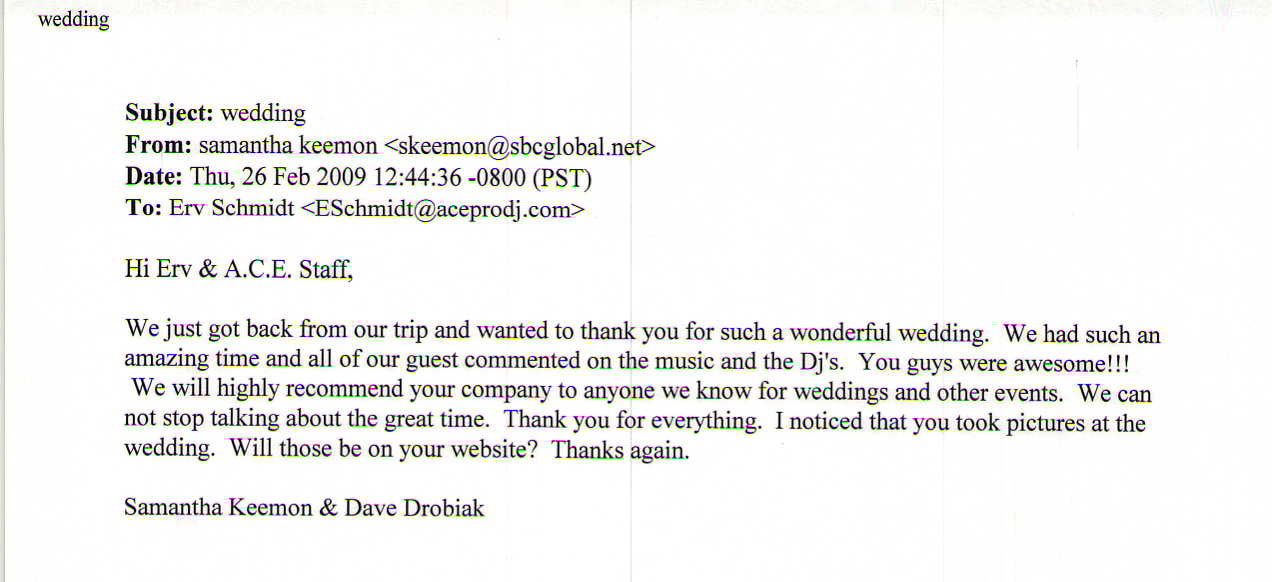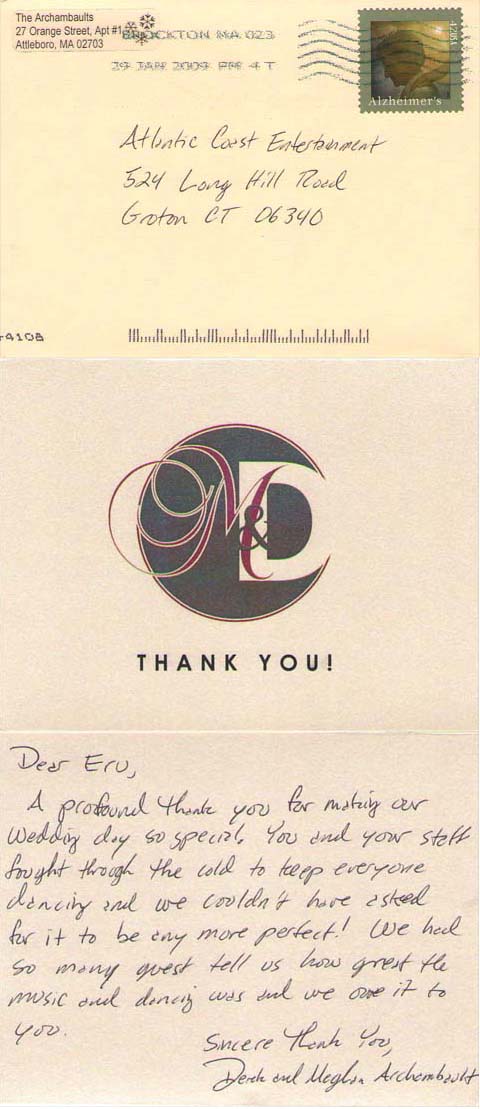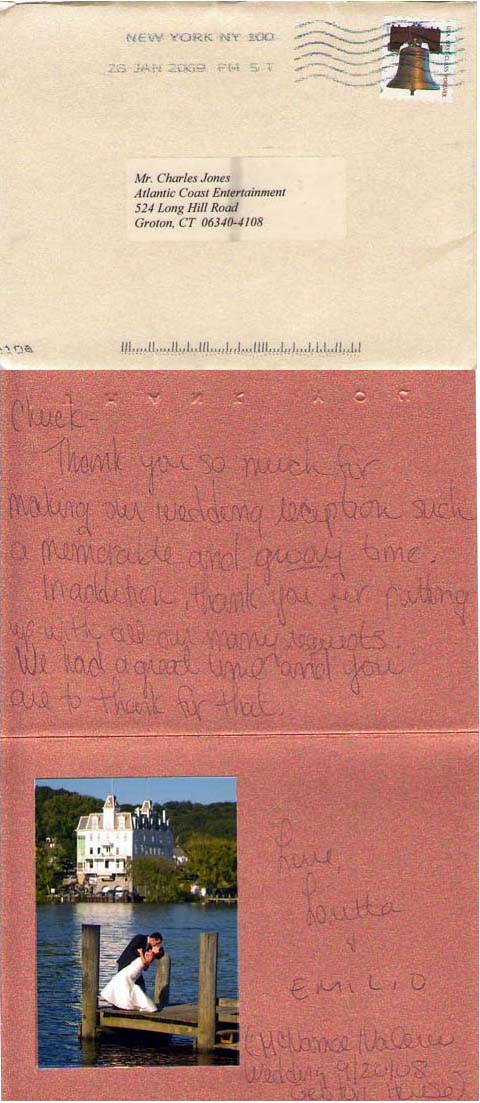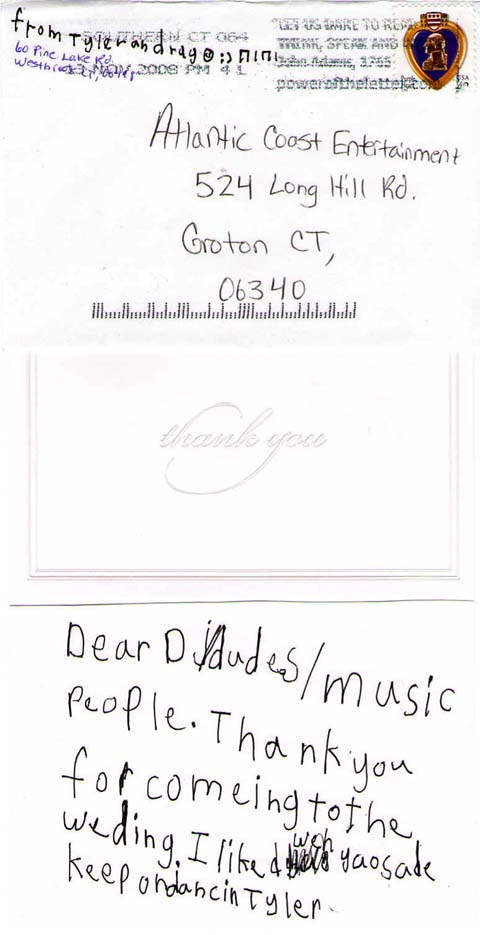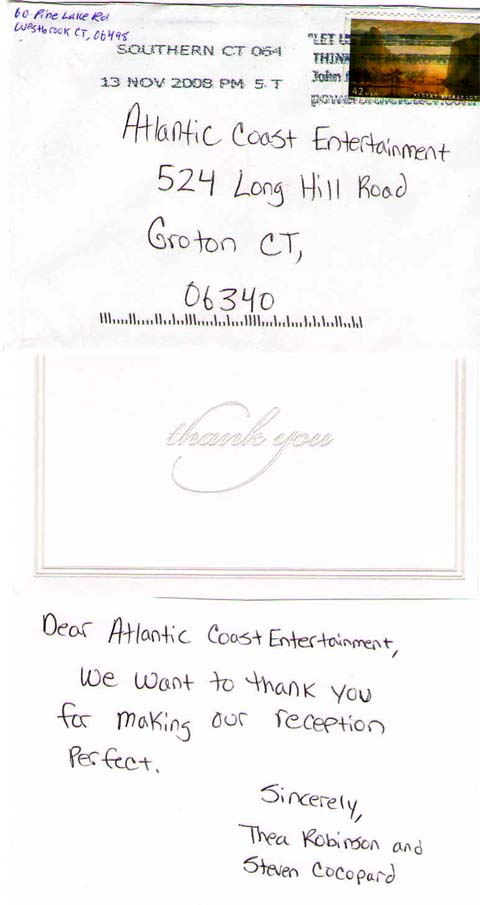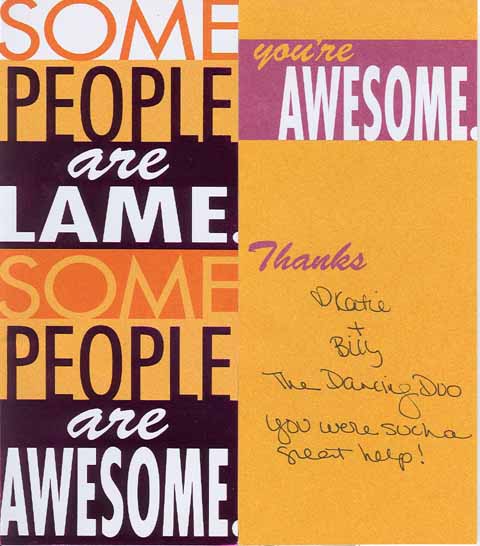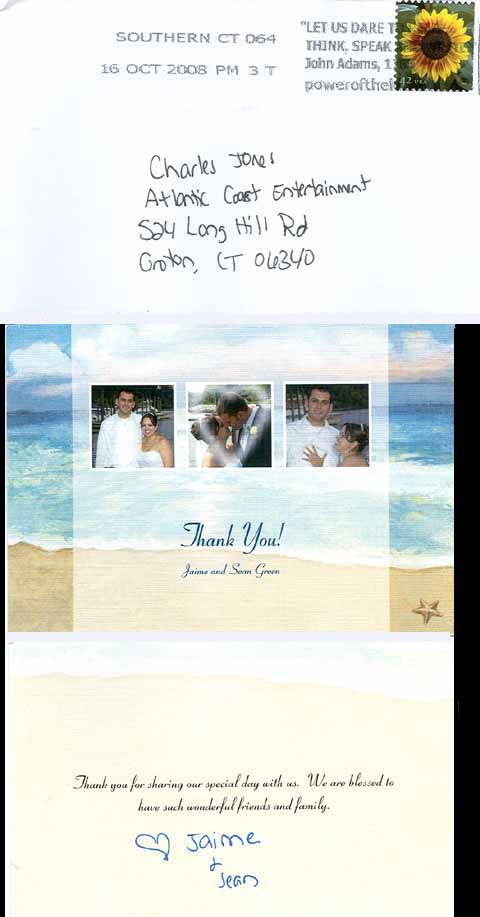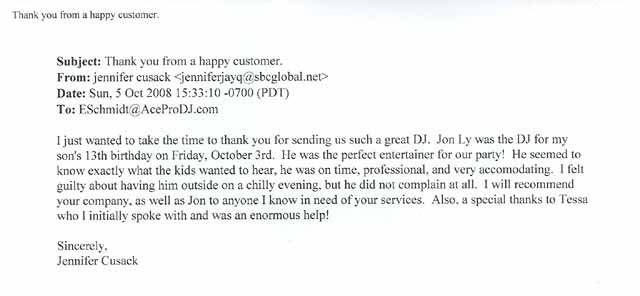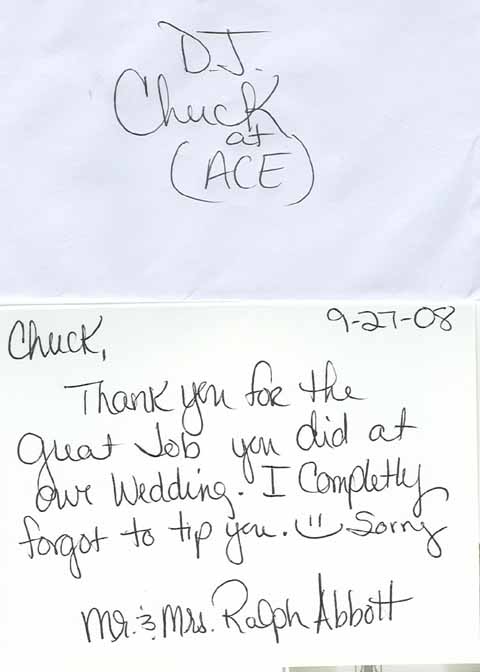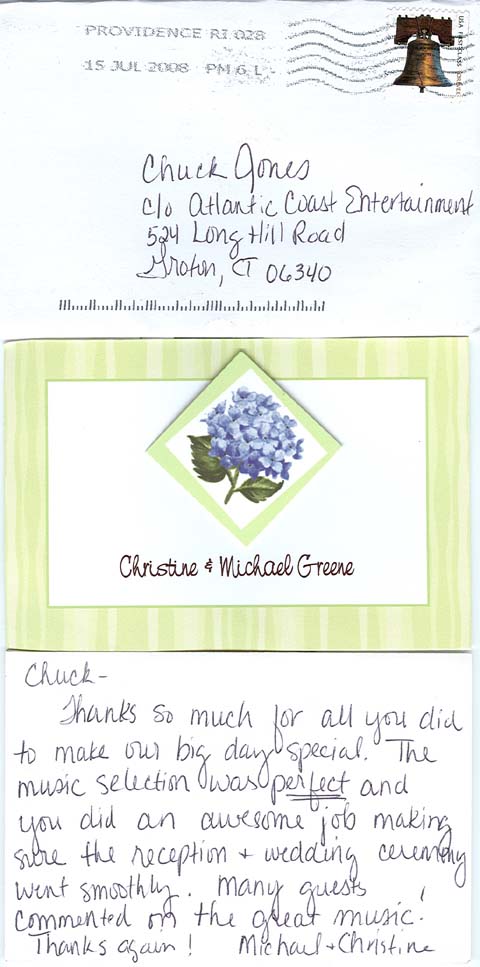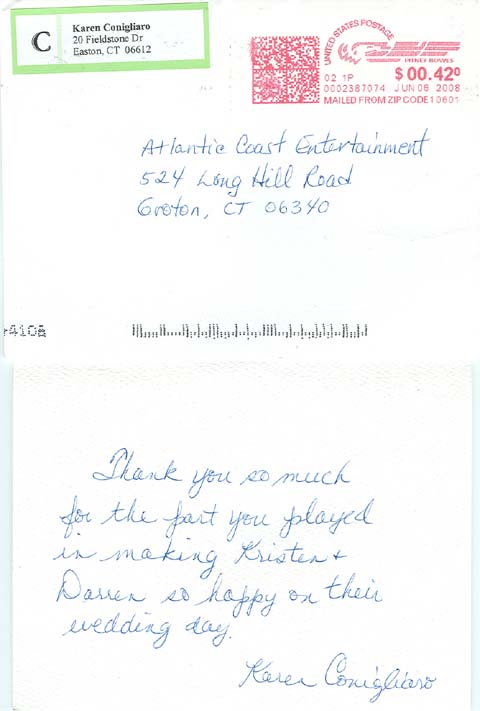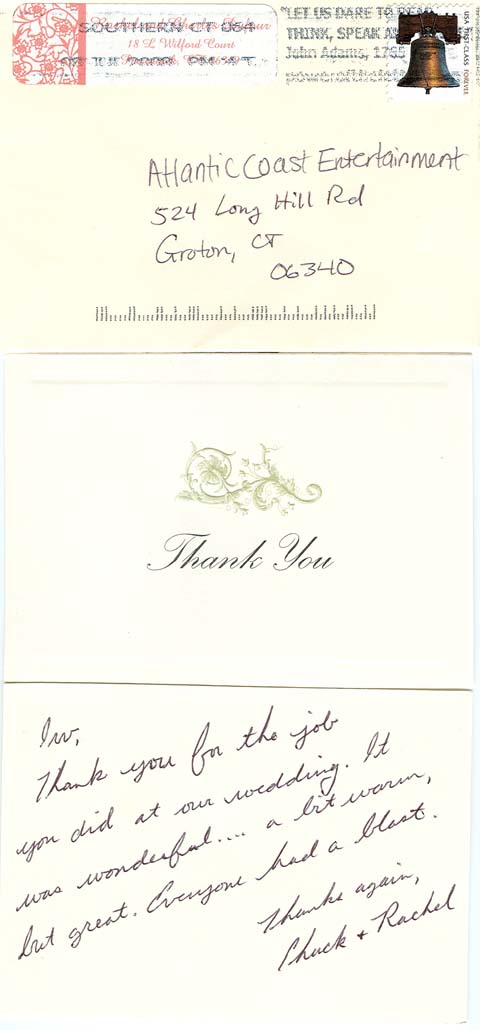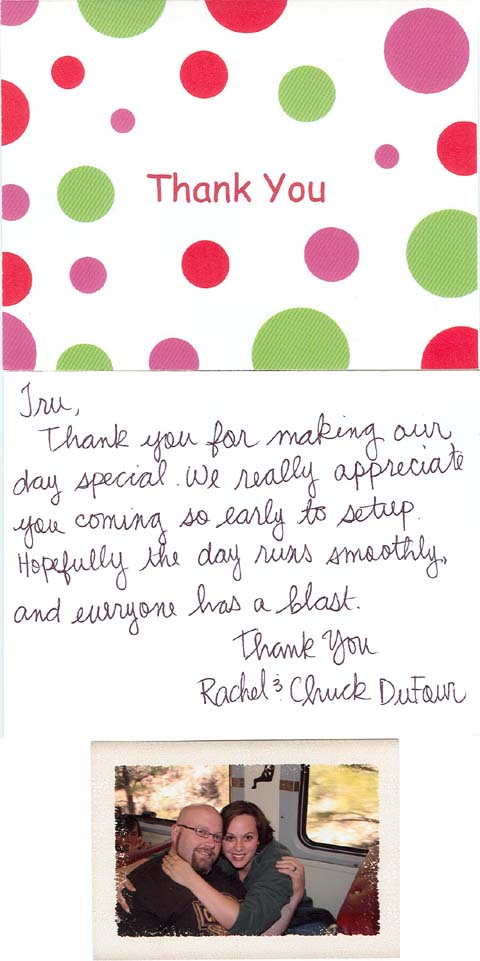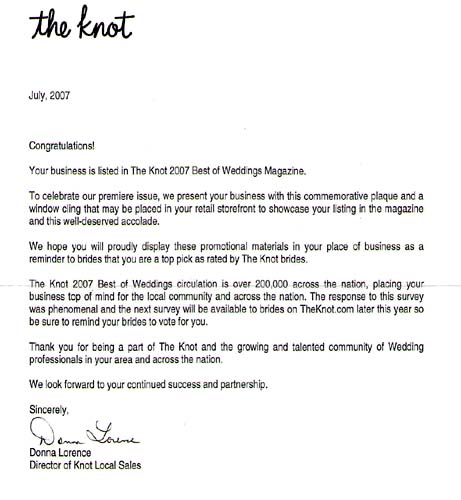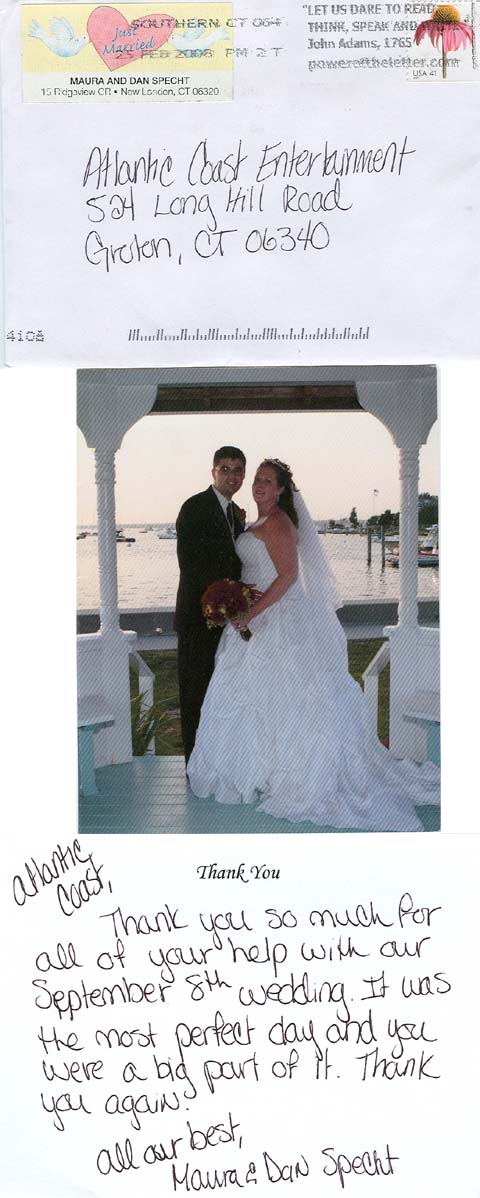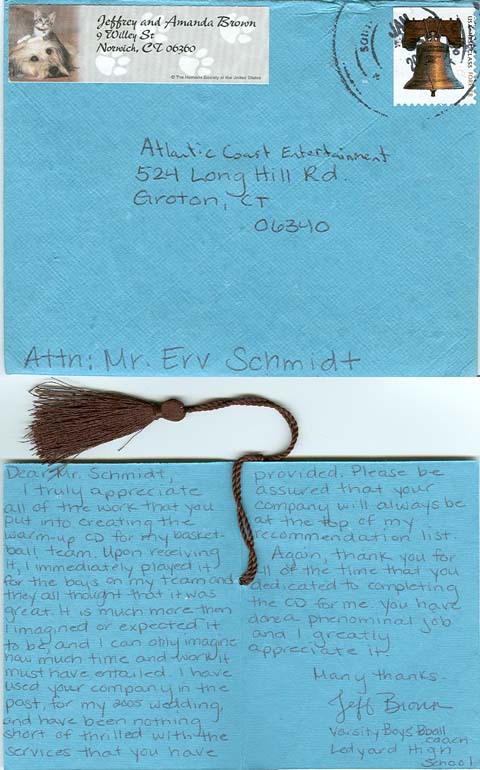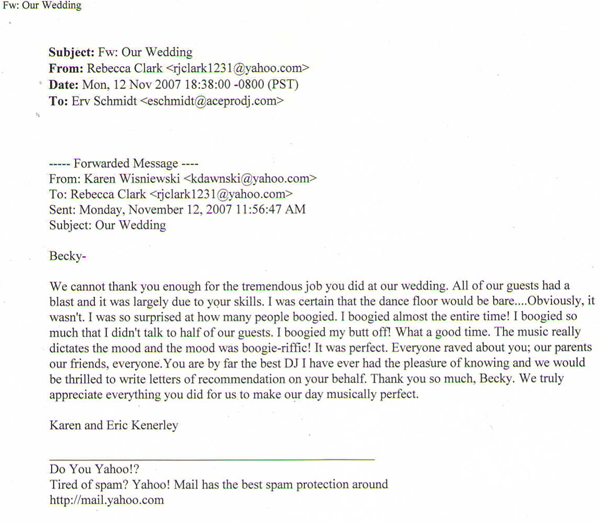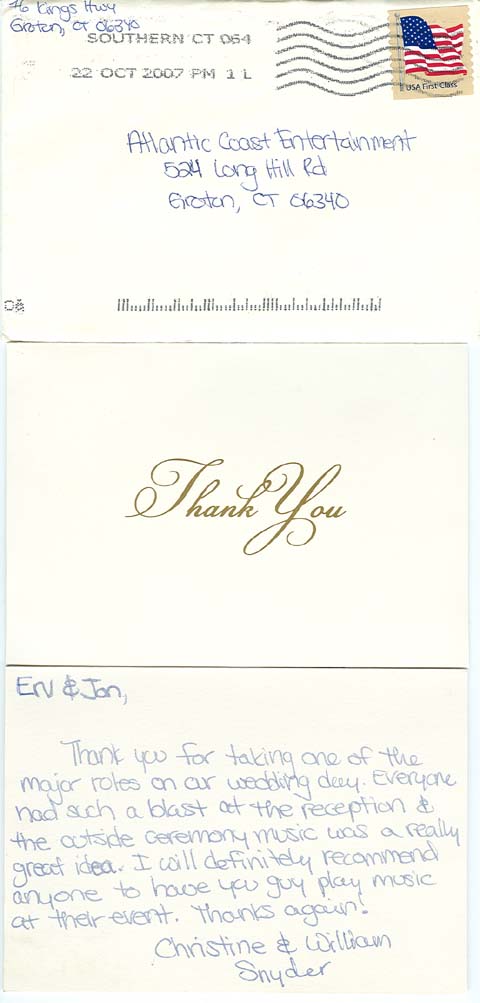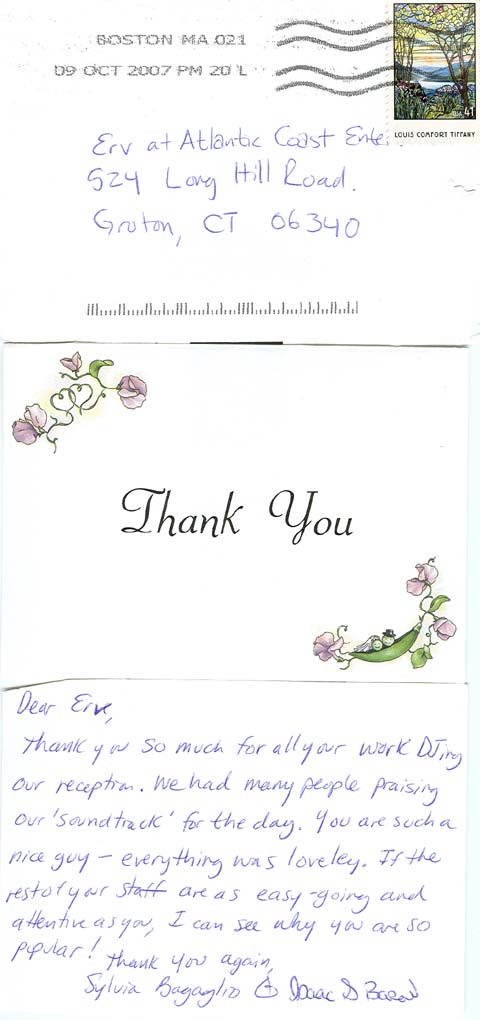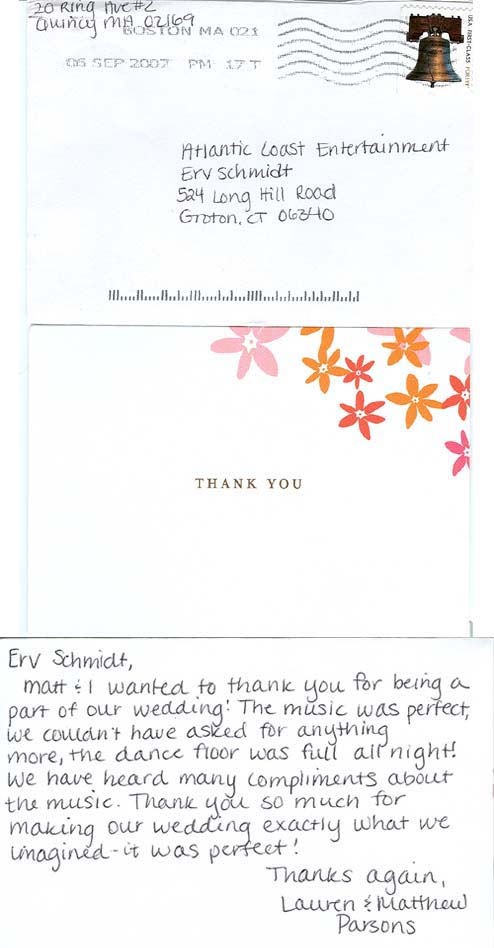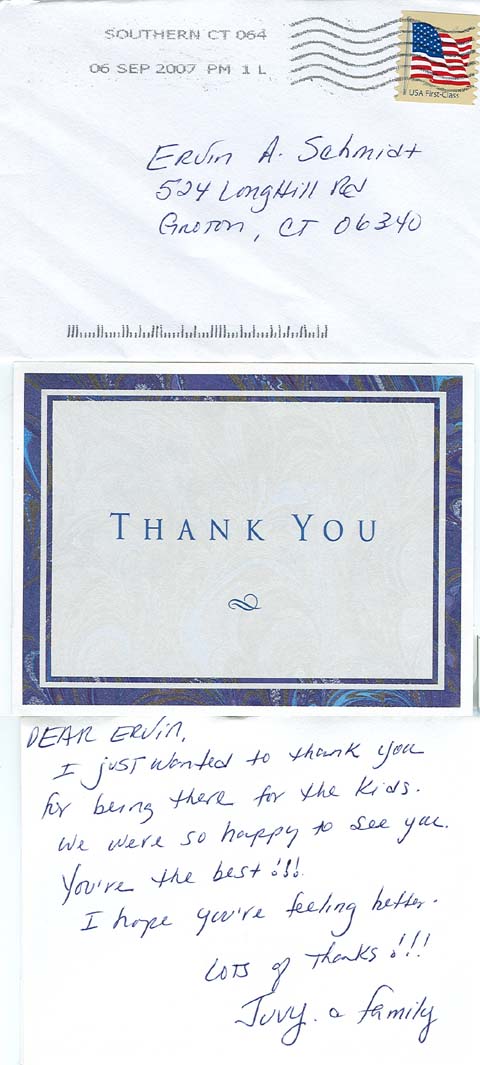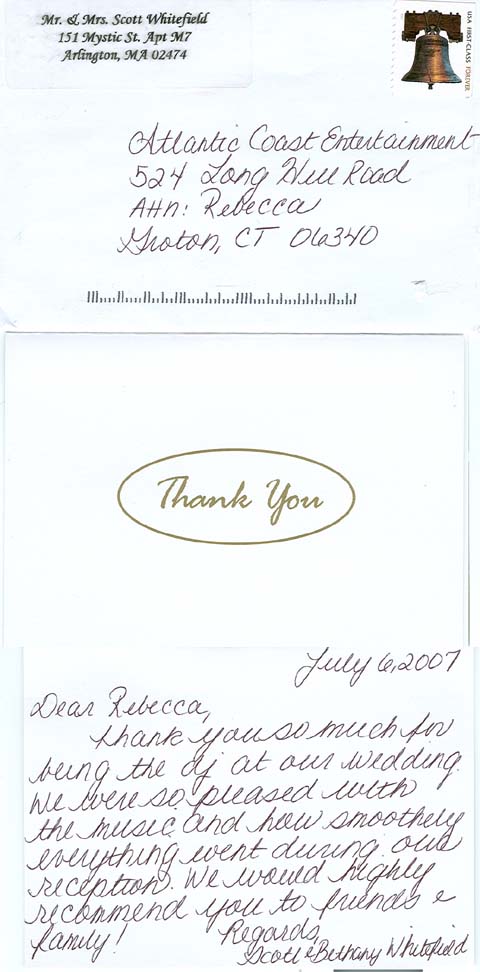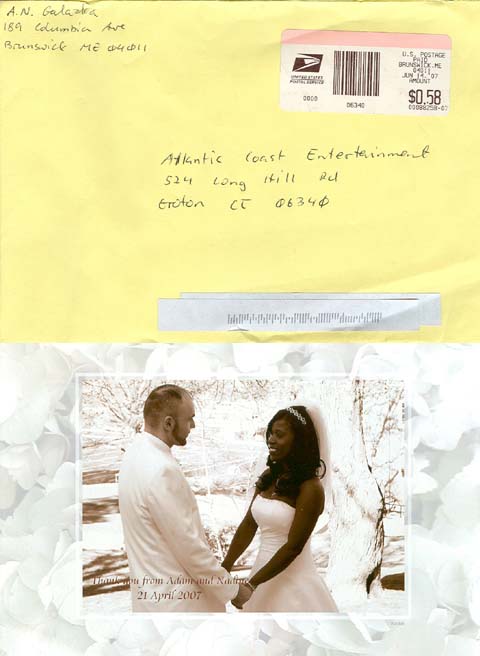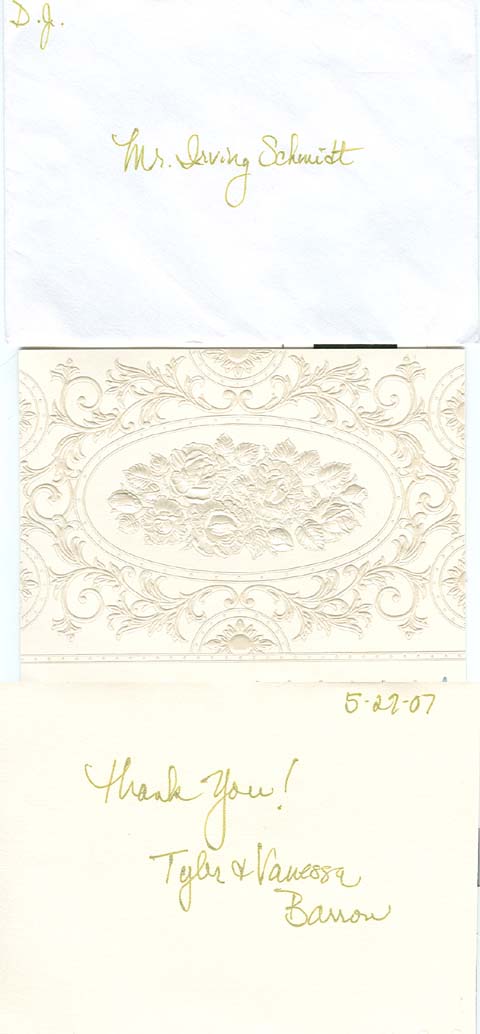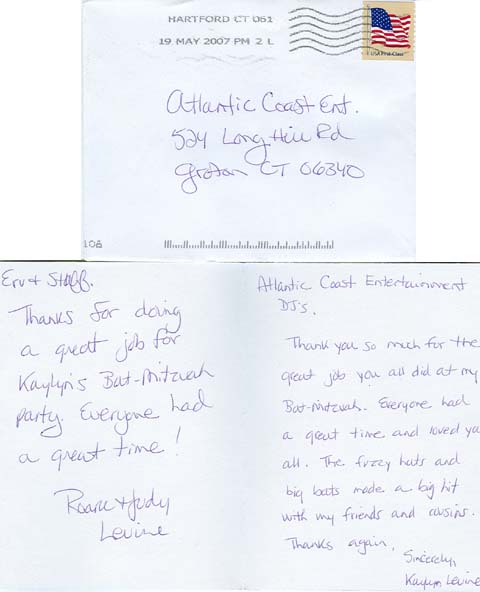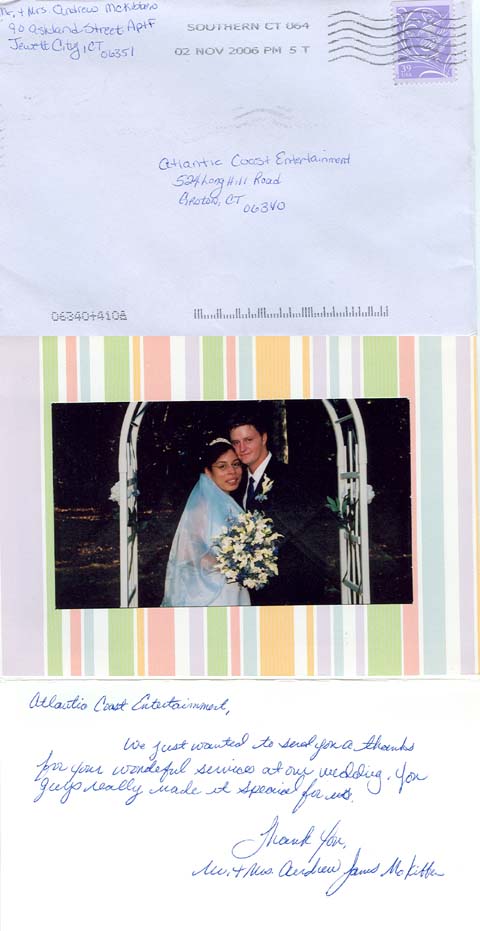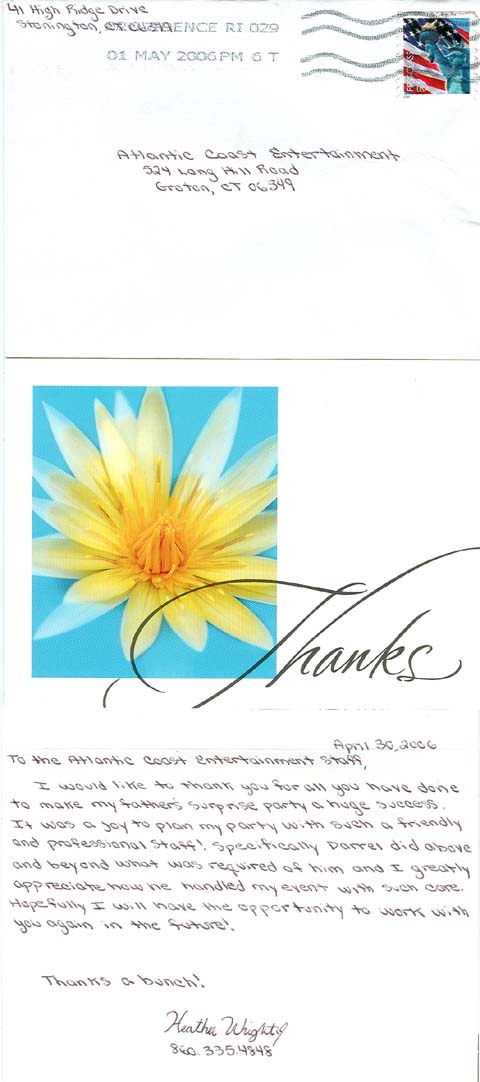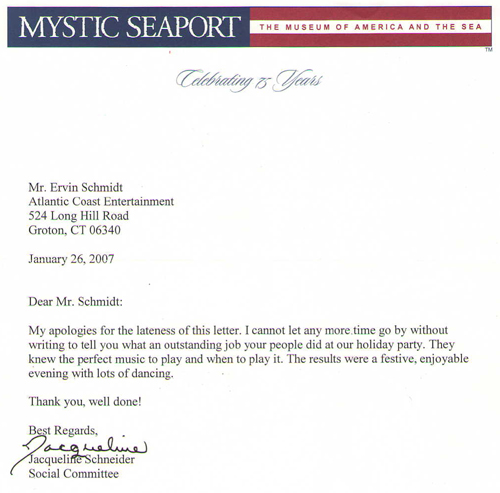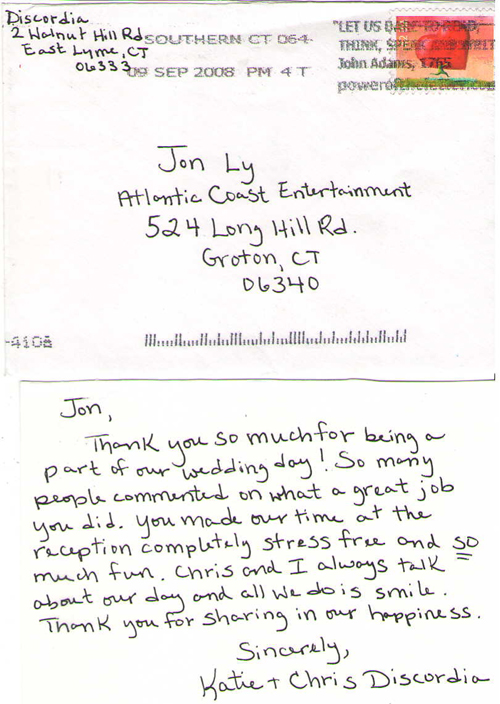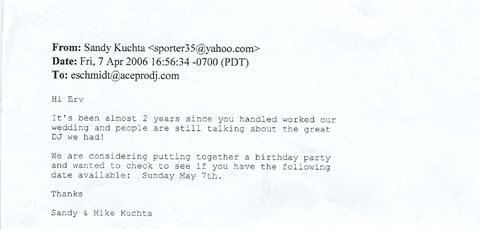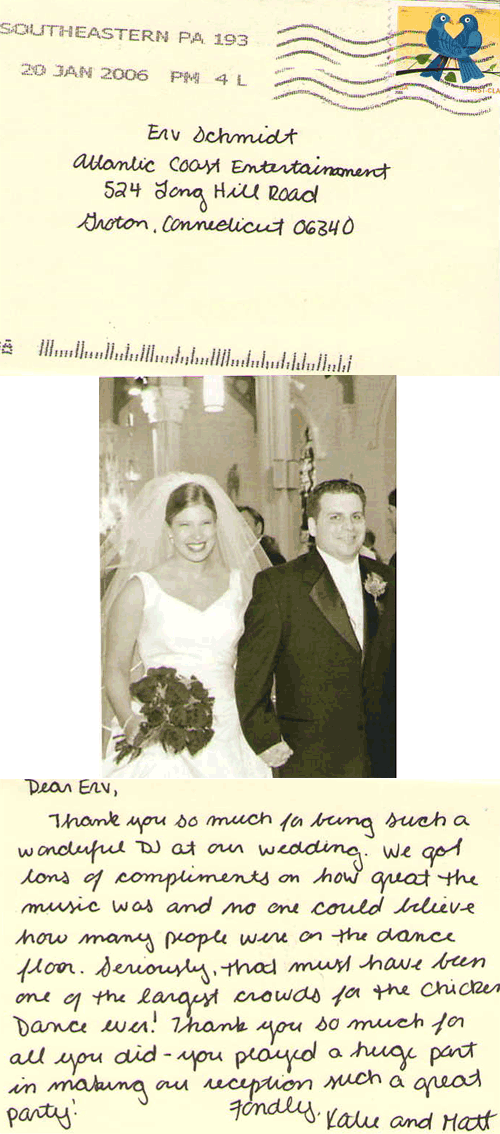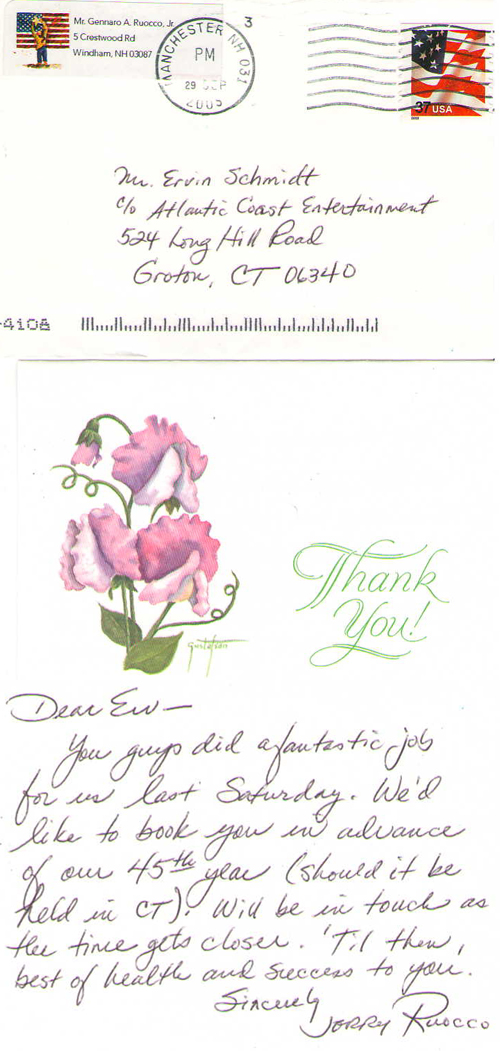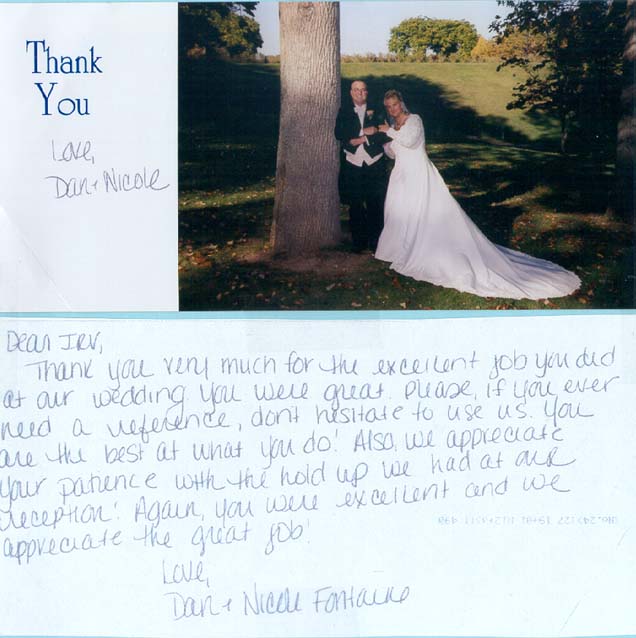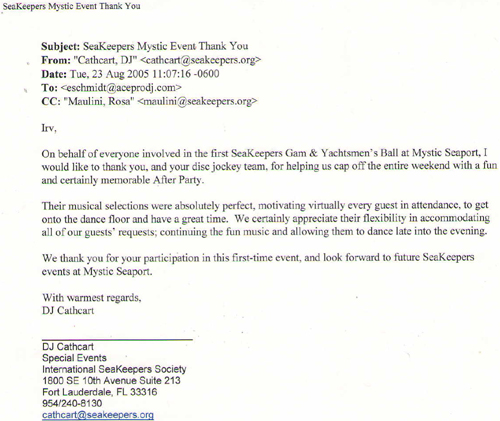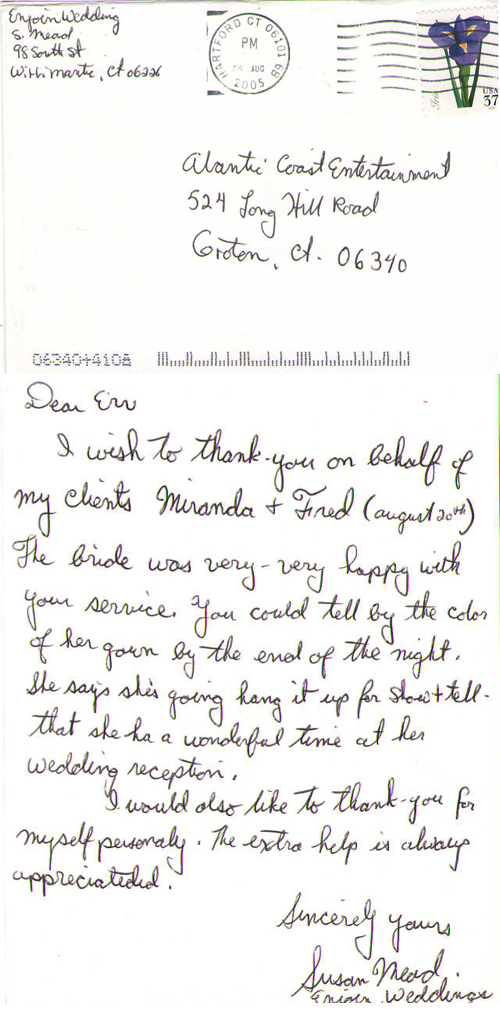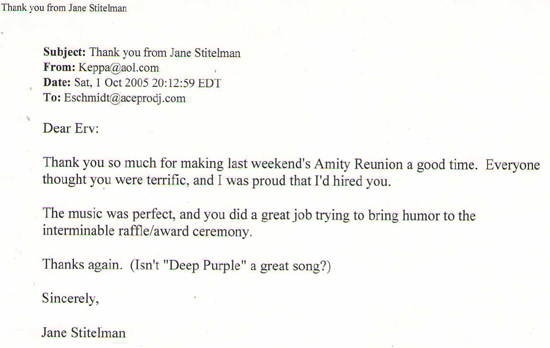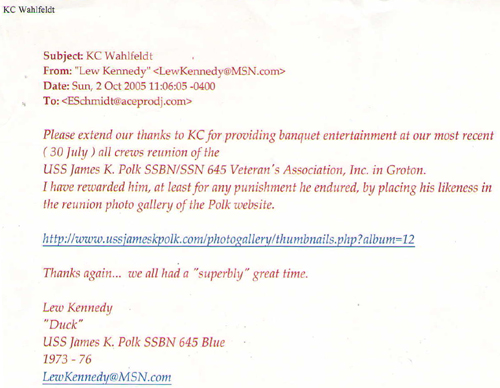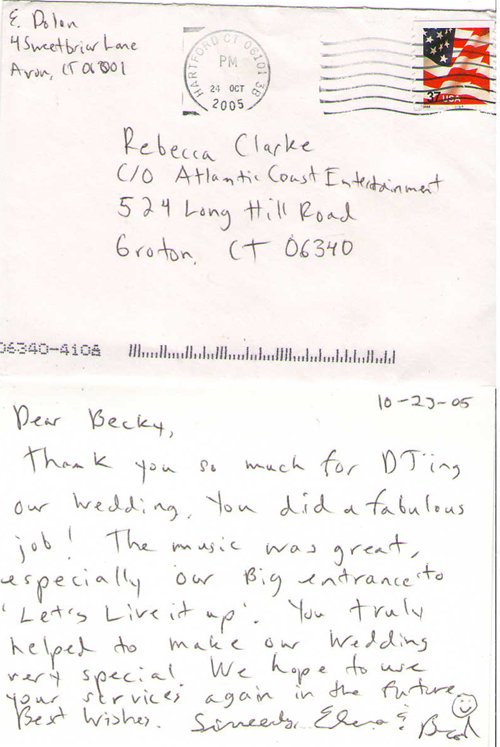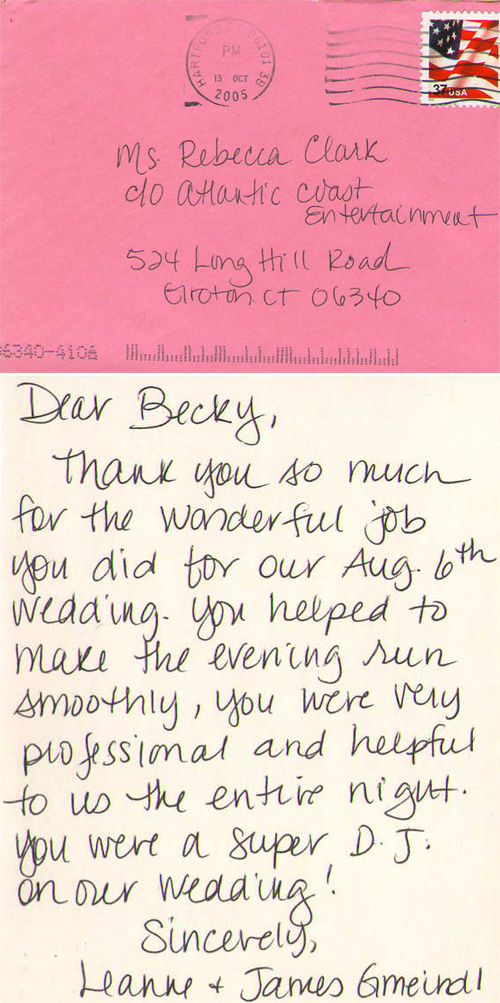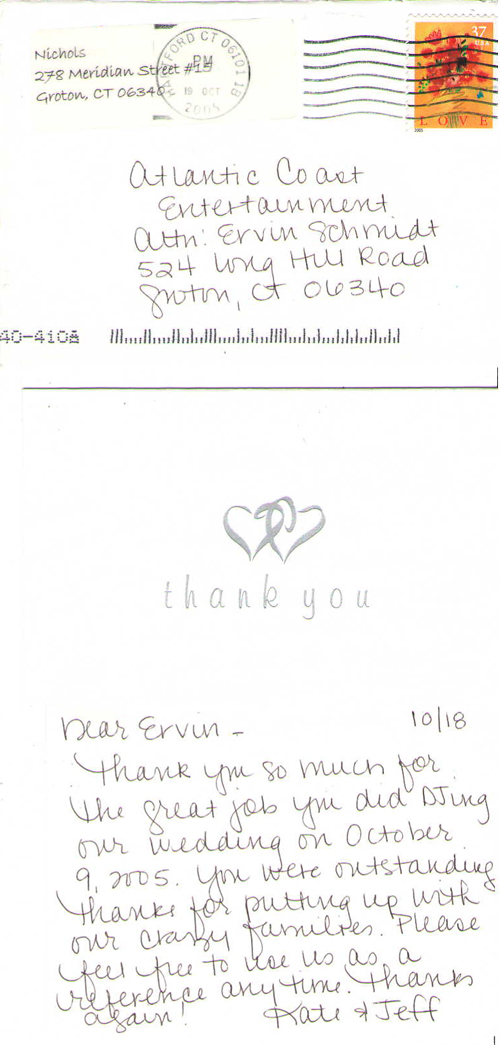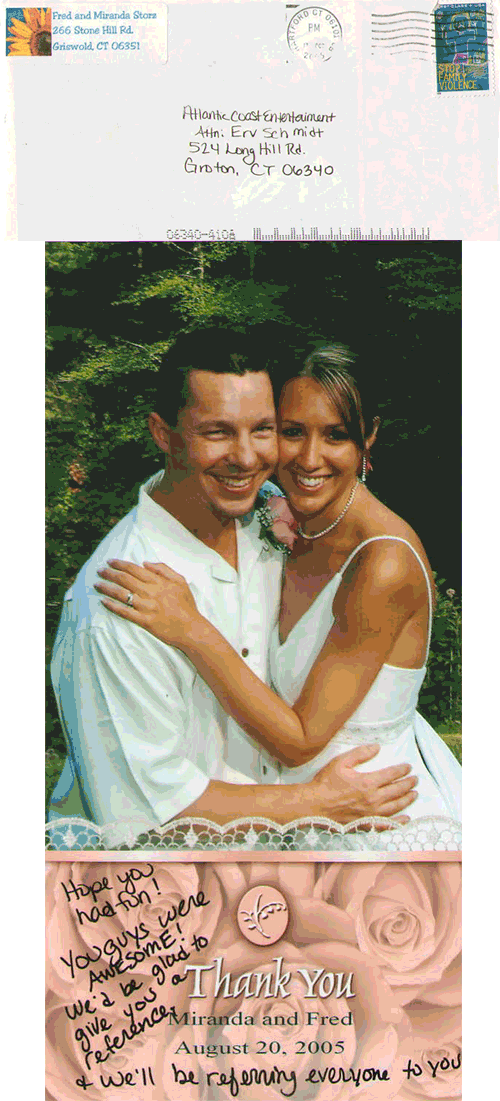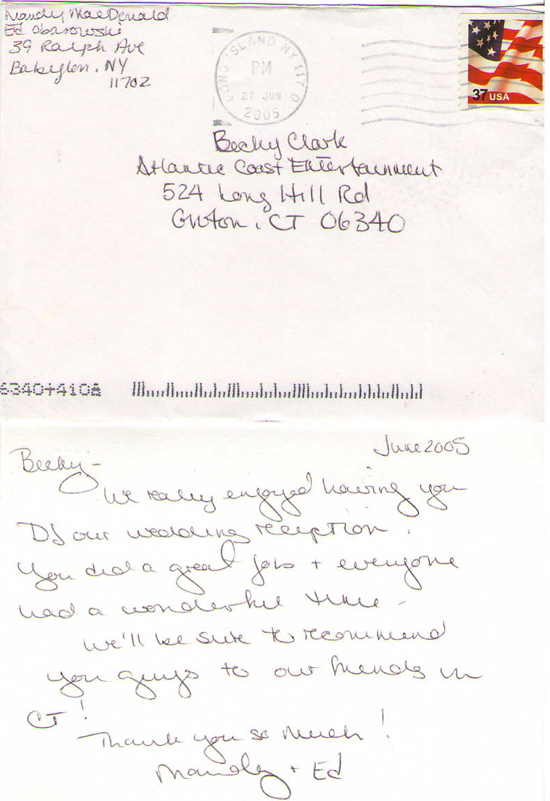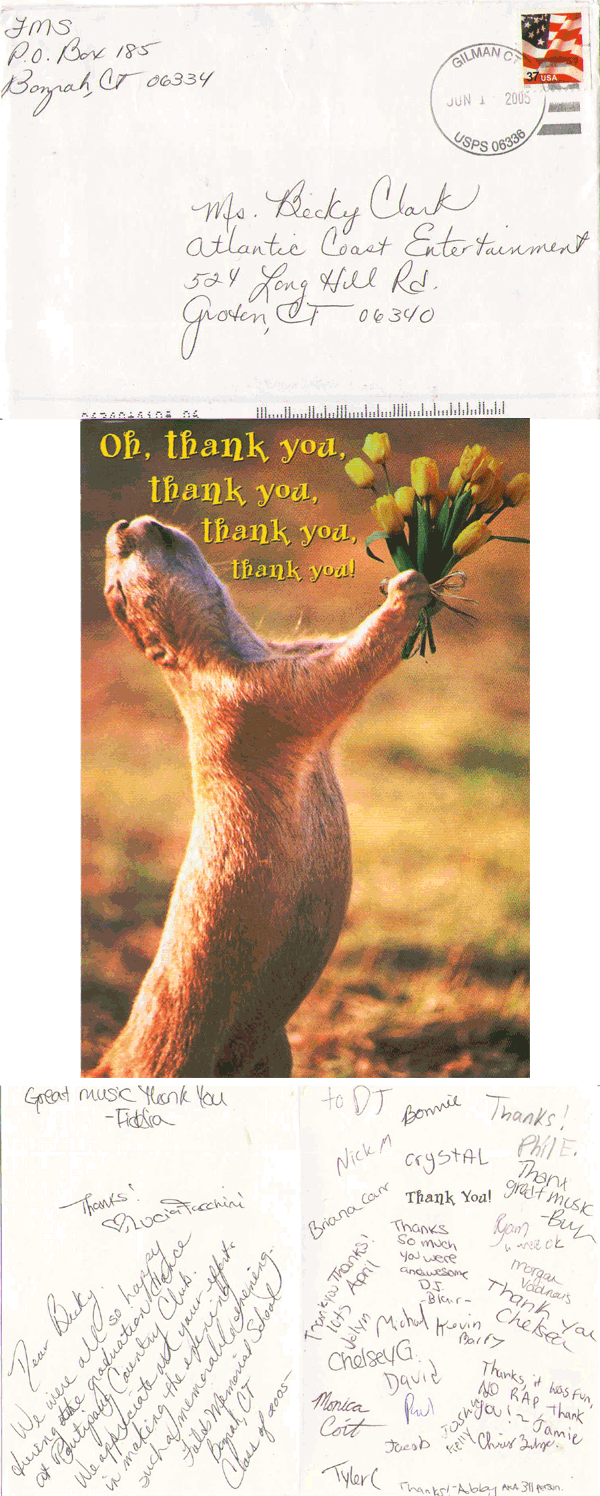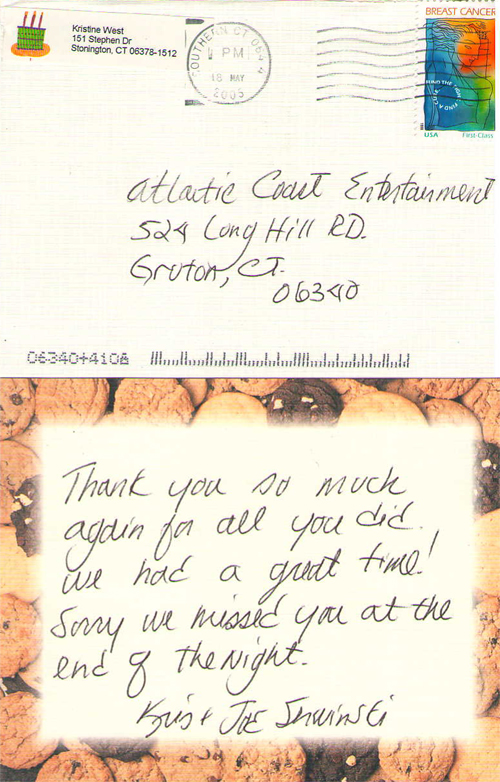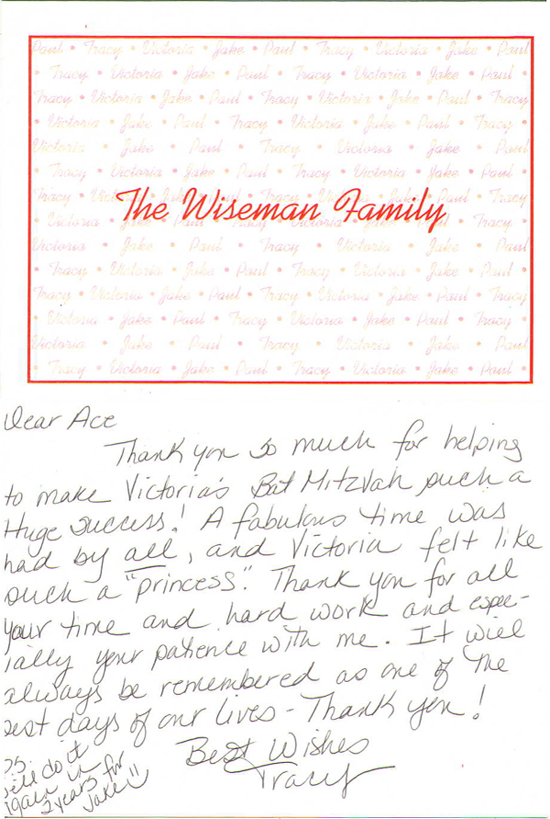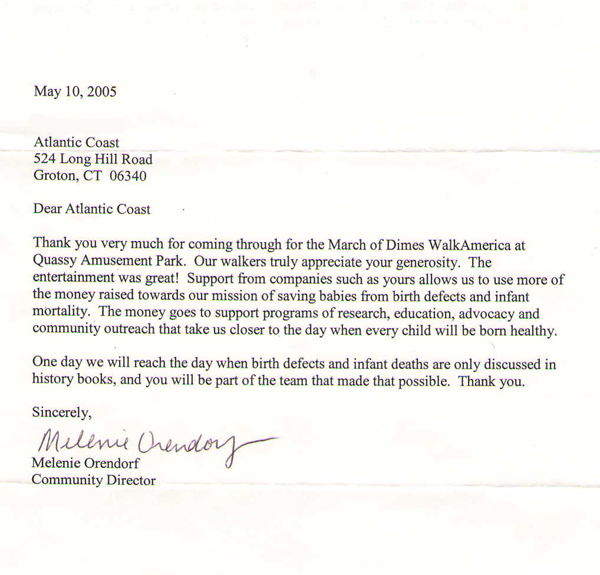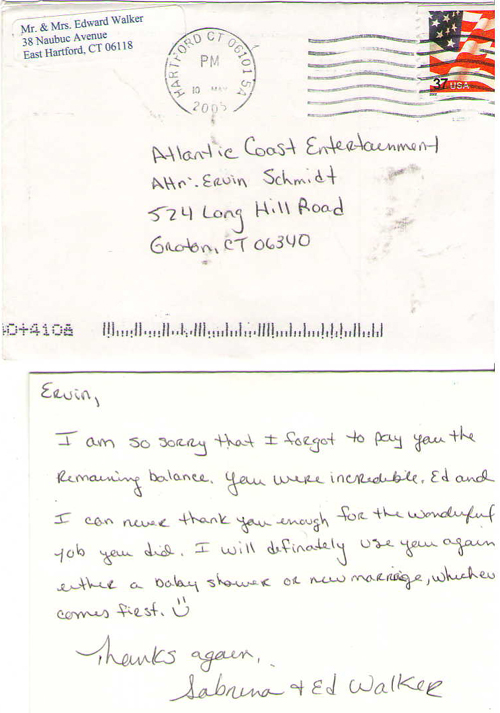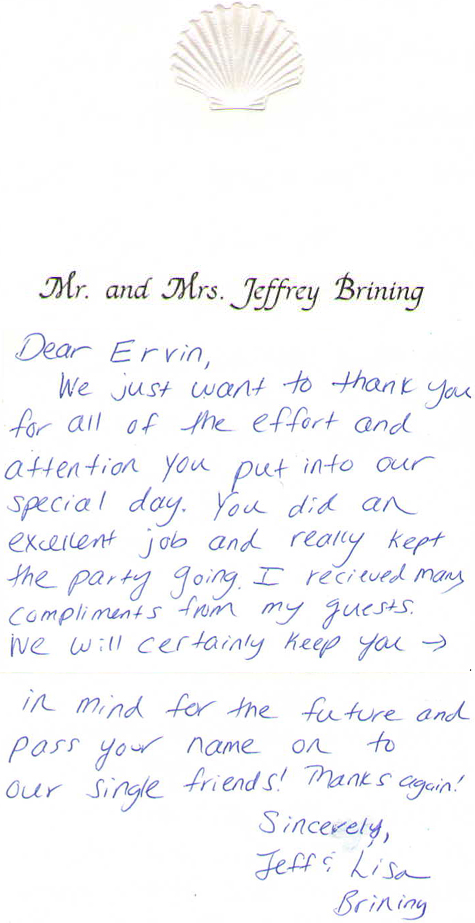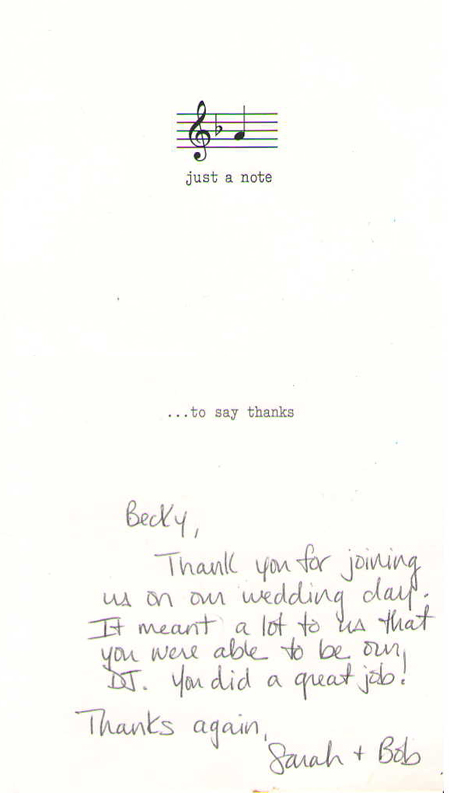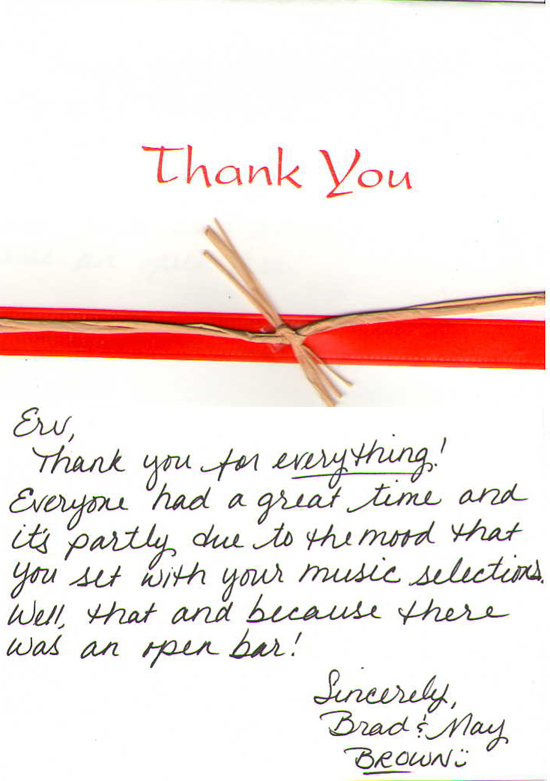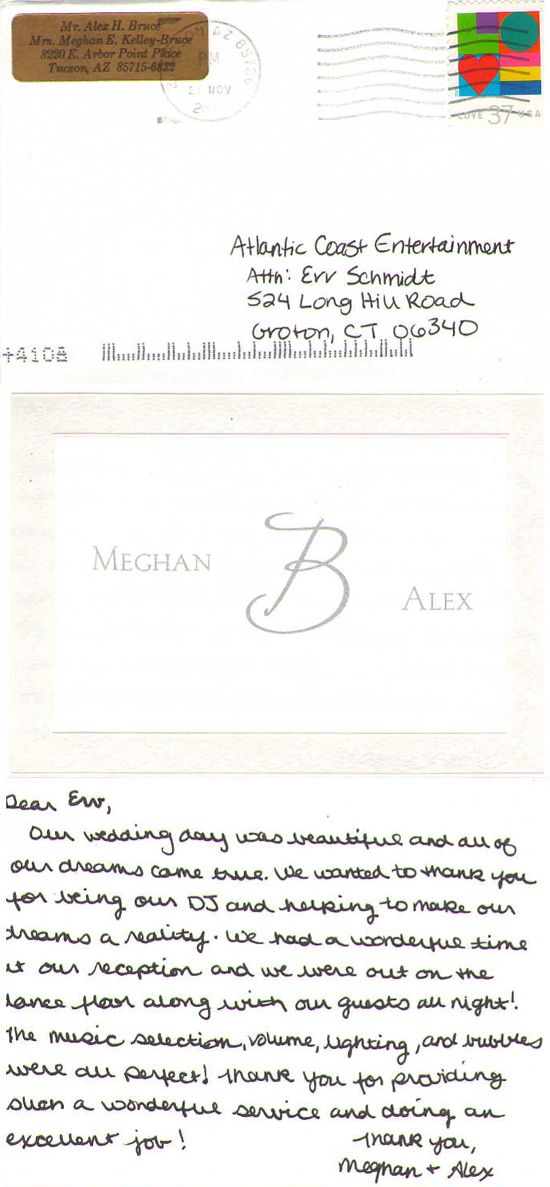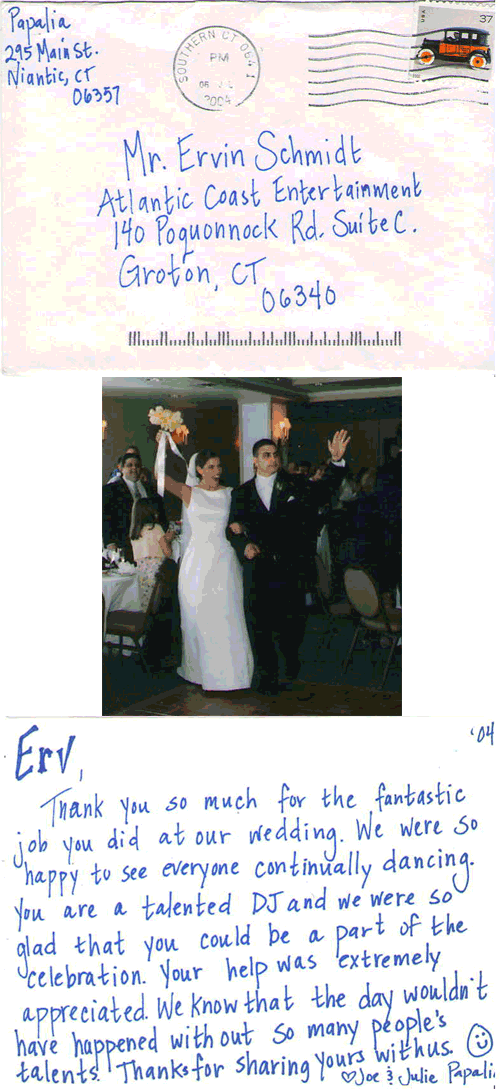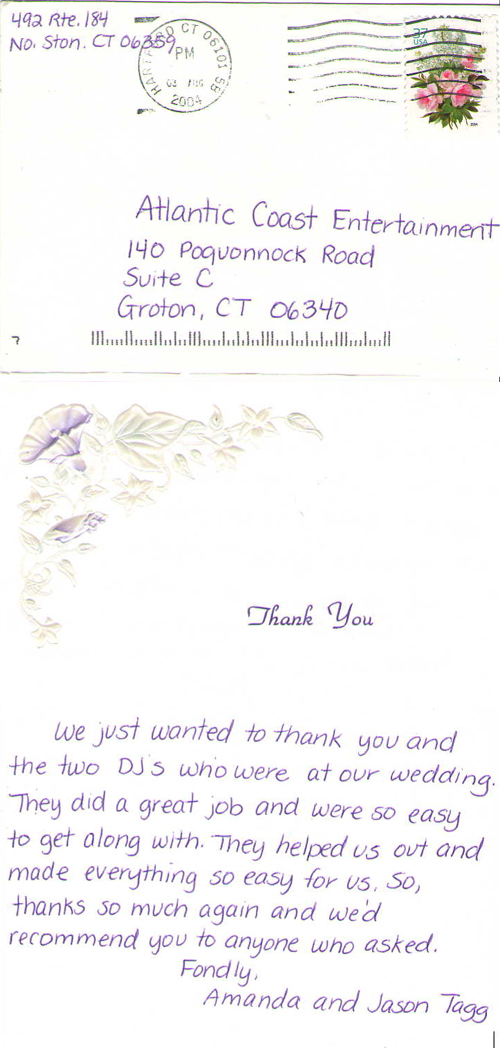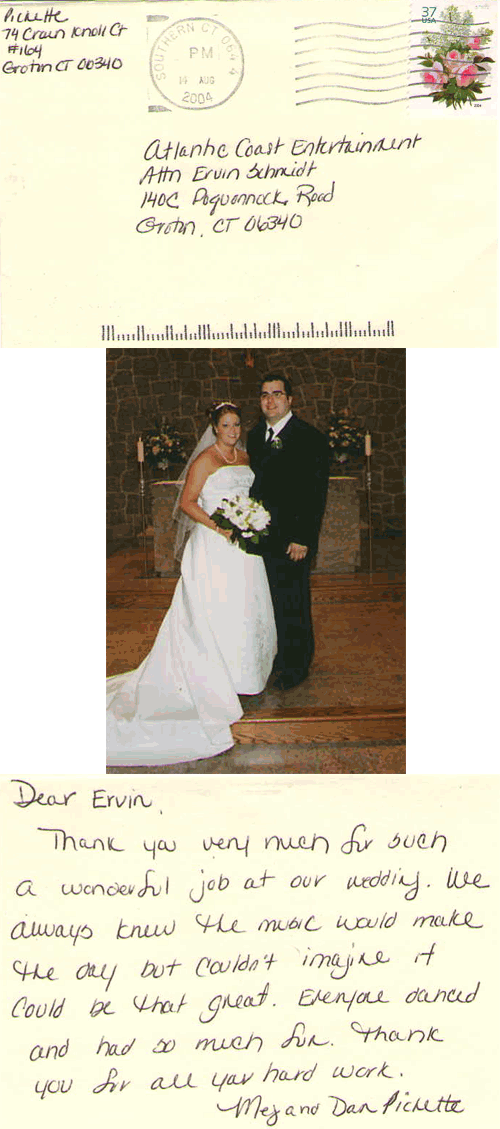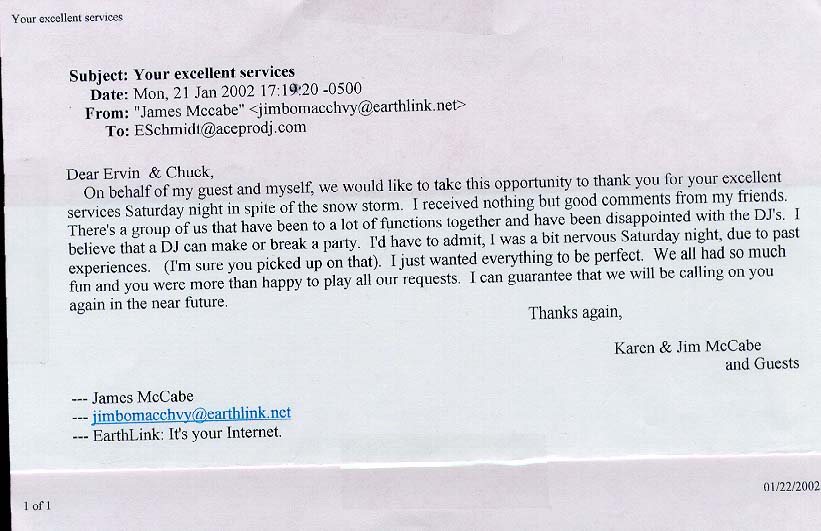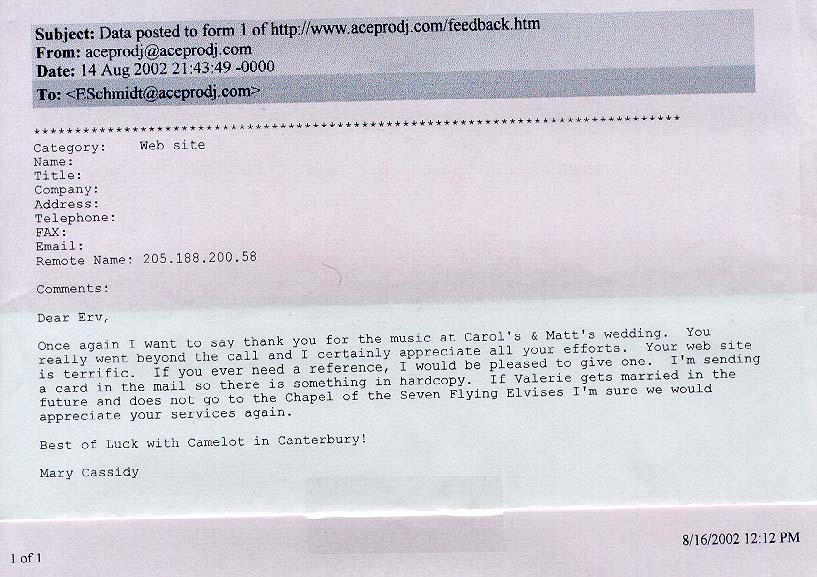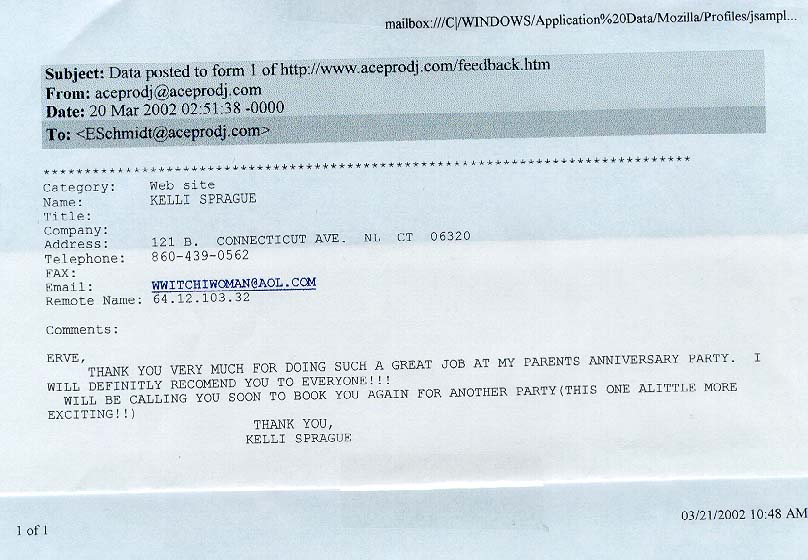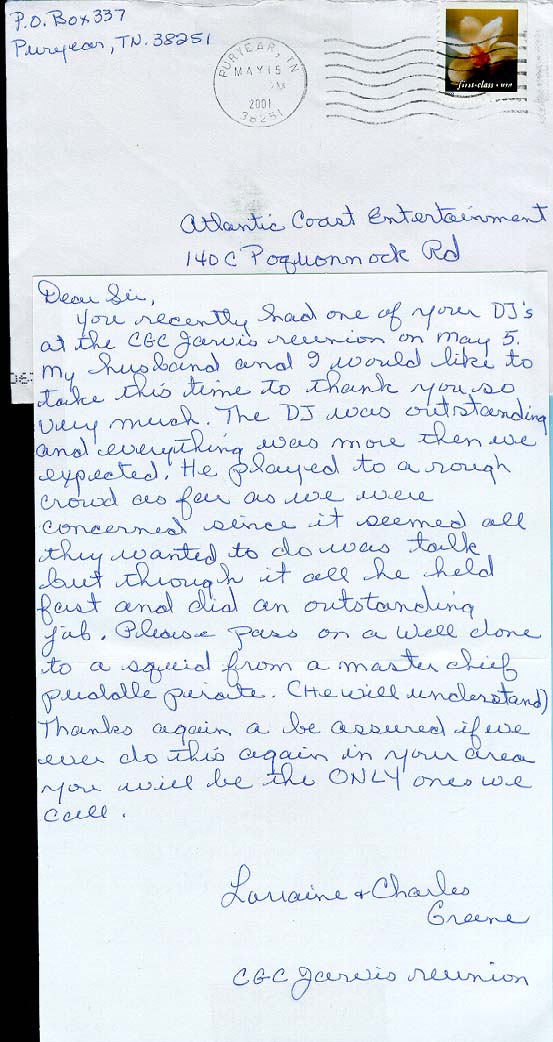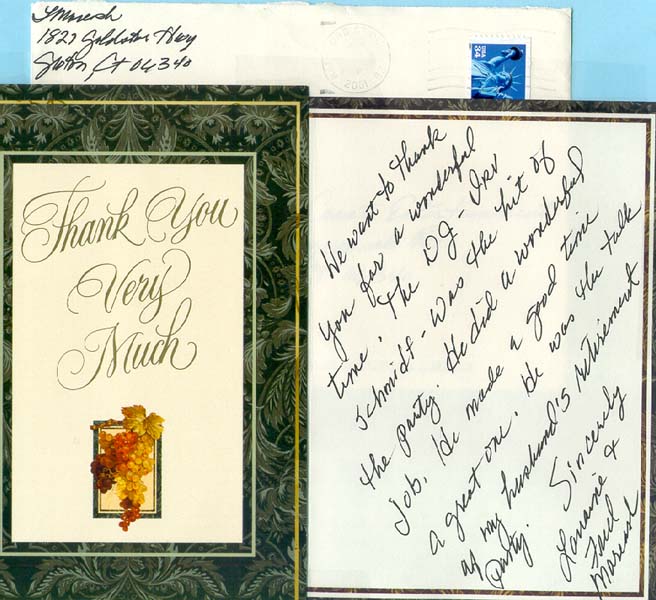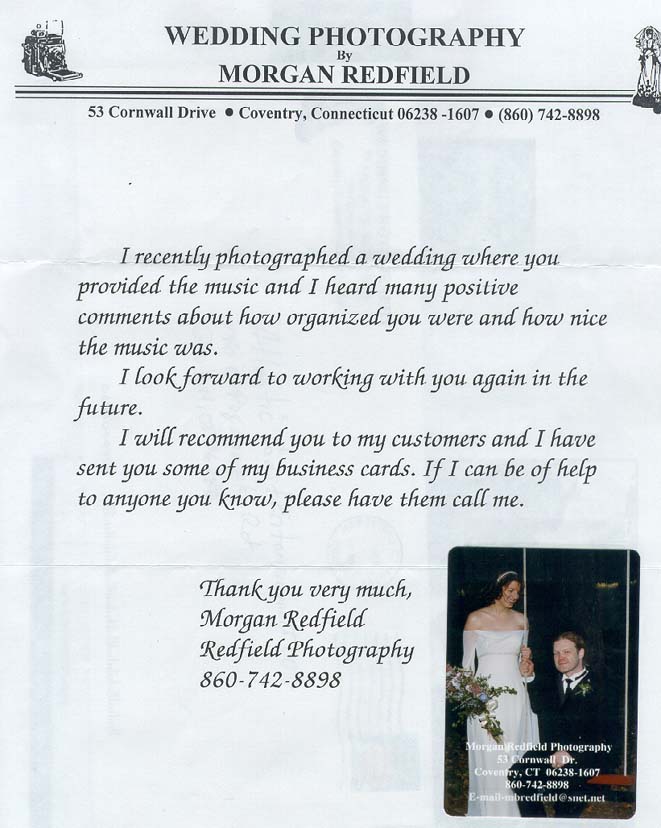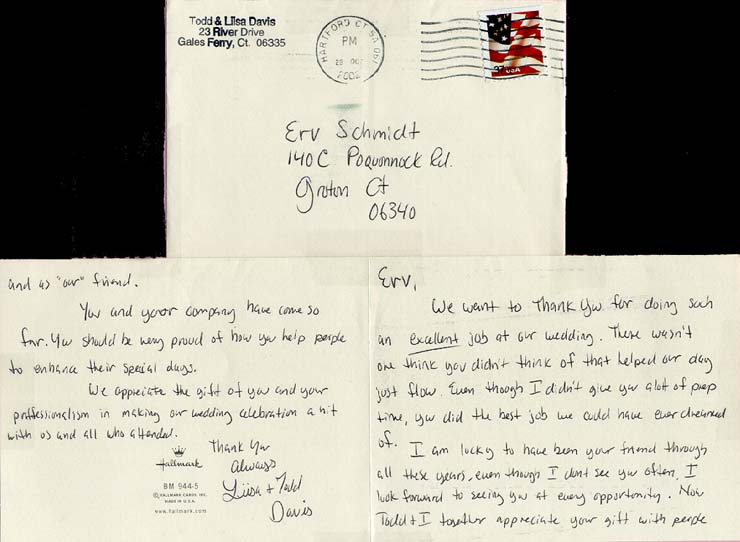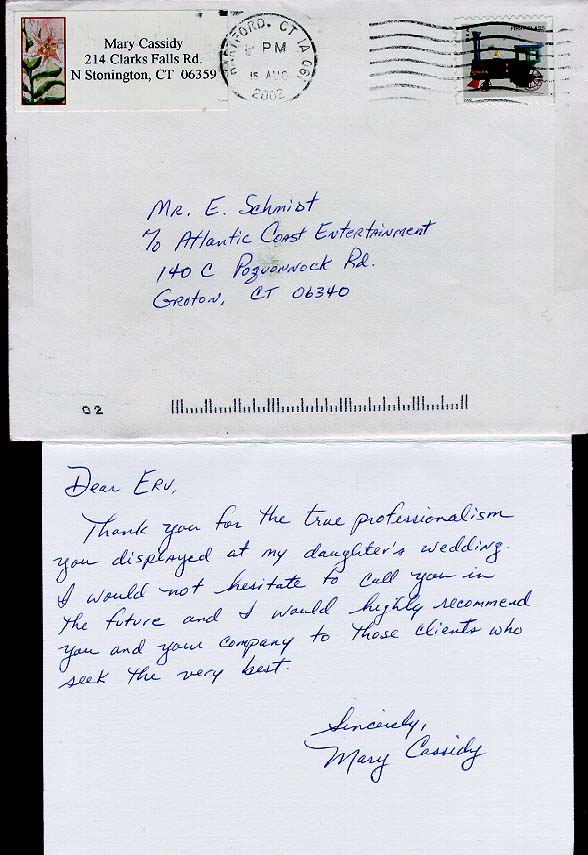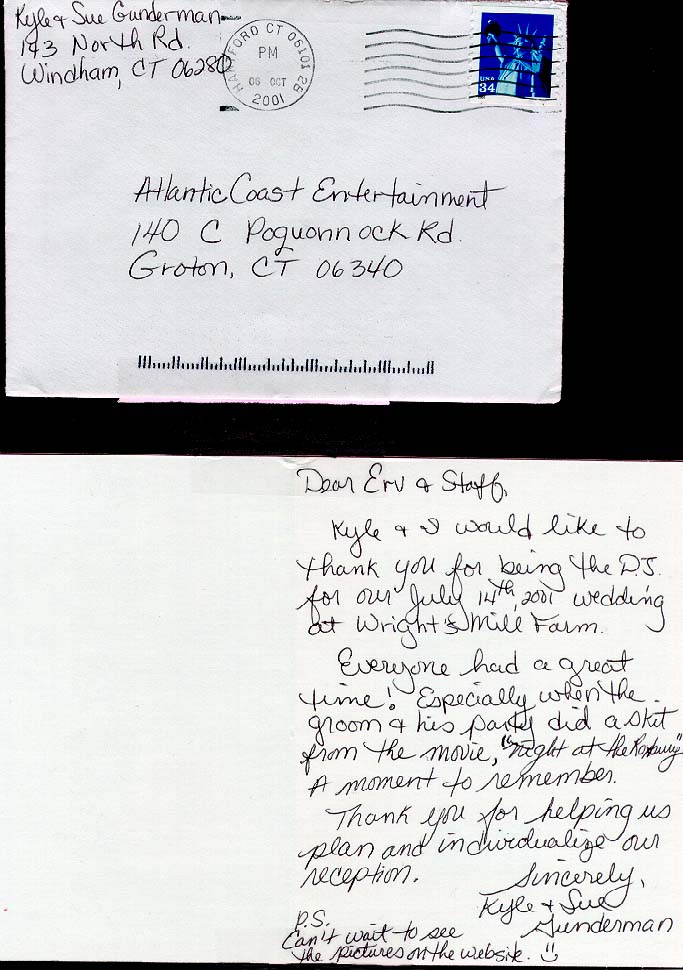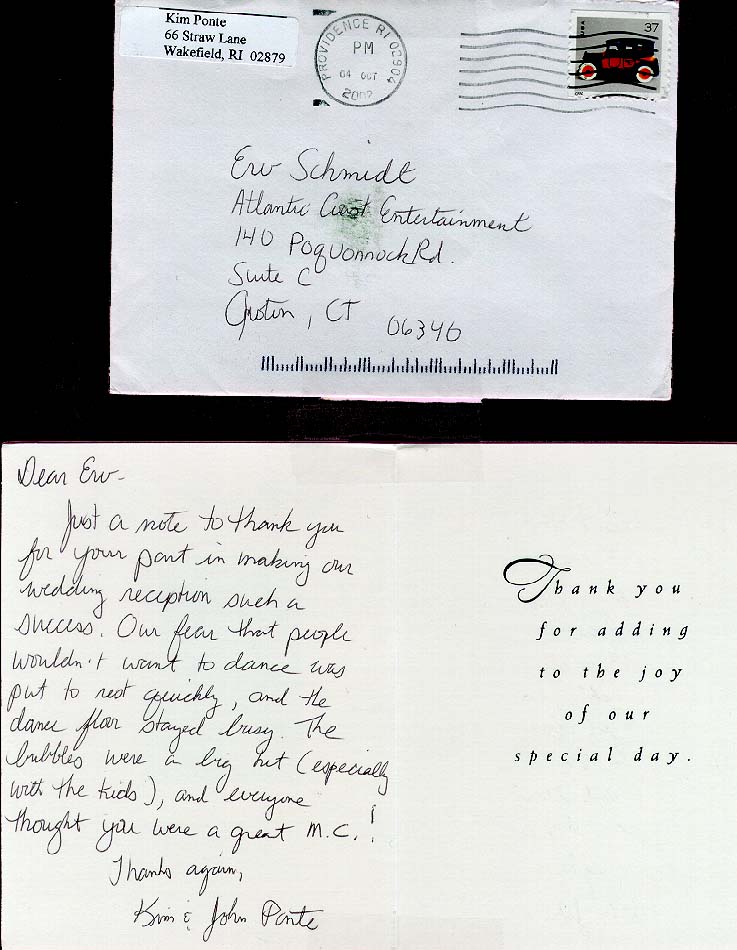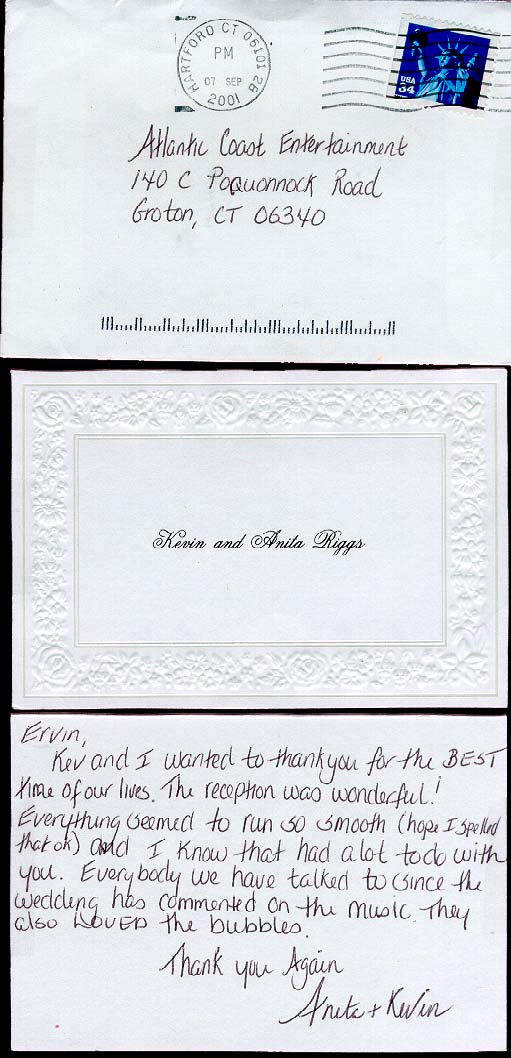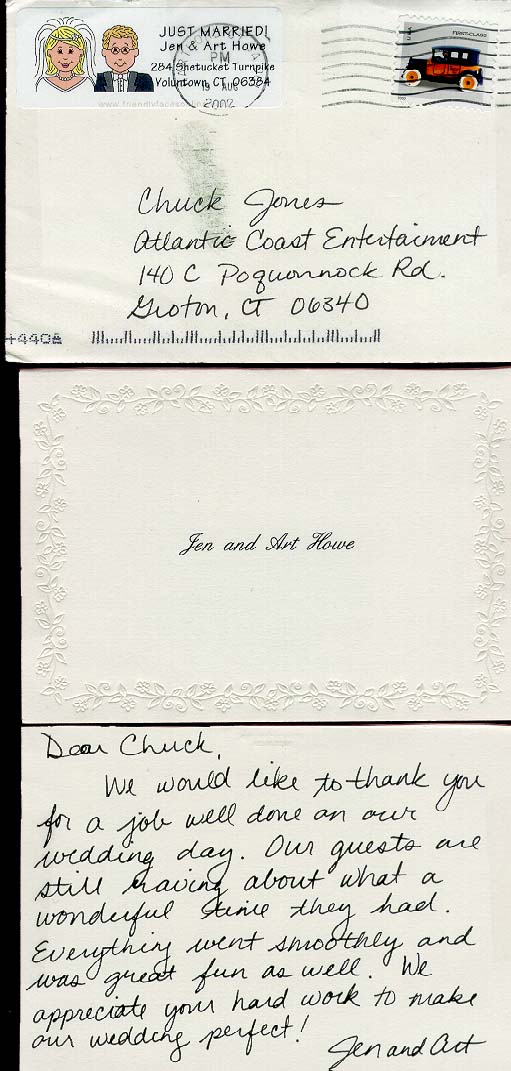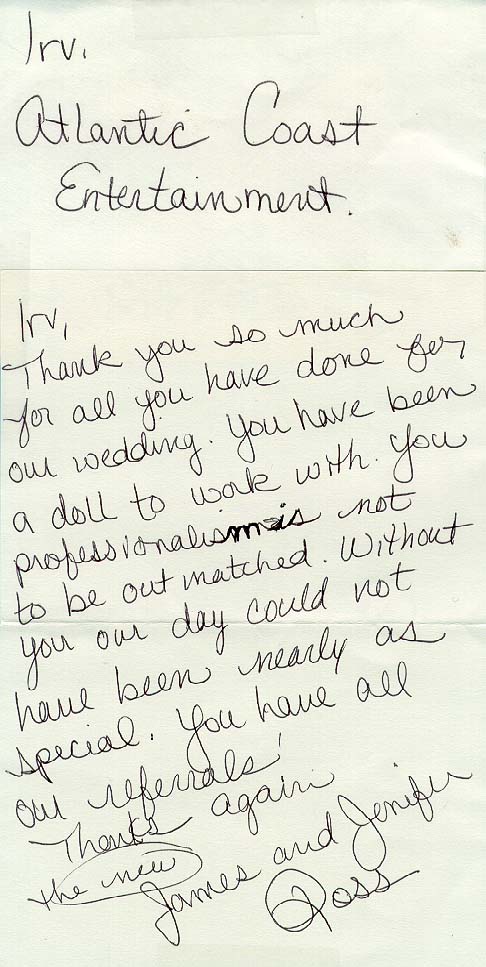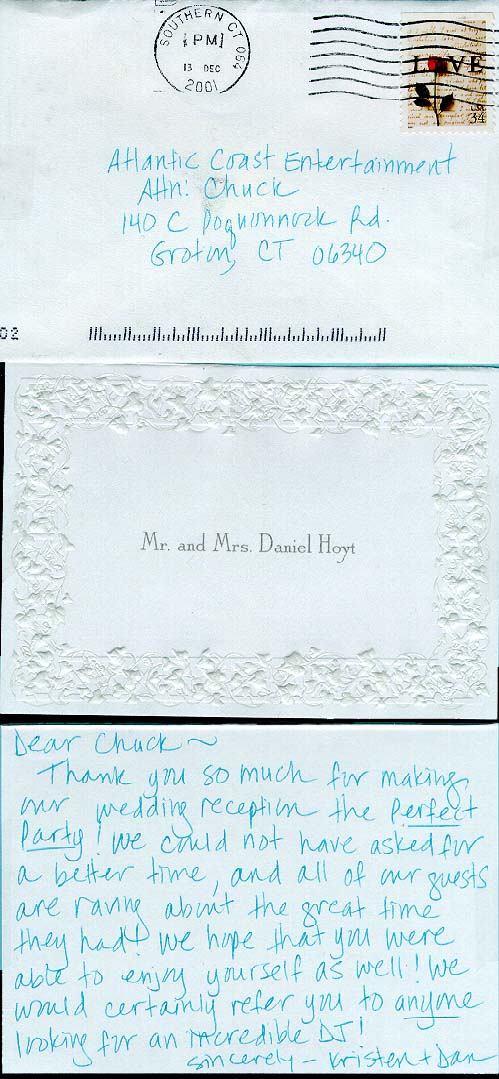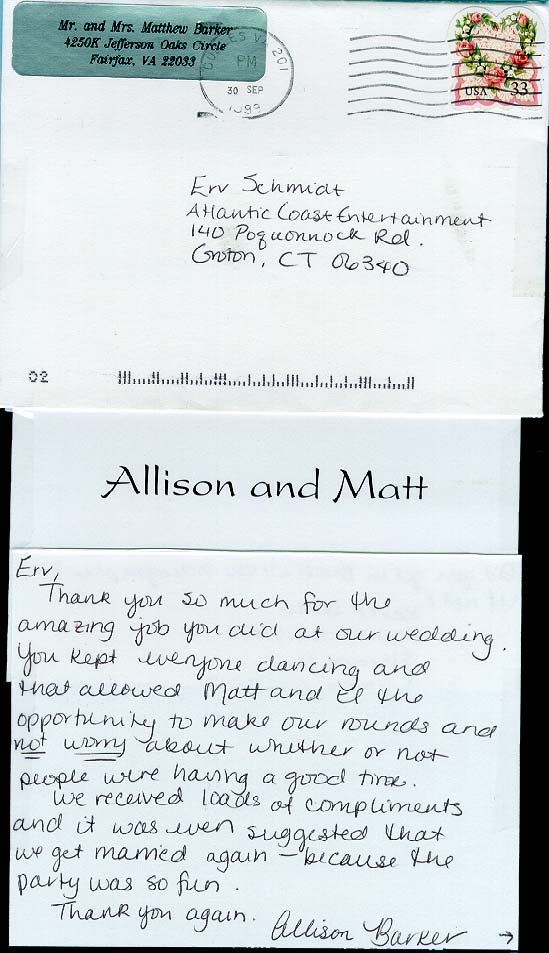 Professional References
Here are some Professionals in the "Wedding Business" that you can call and ask about us....
Name
Job Title
Location
Office Phone
E-mail or Website
Sheila Graham / Bethany Arico
Catering Director / Banquet Manager
Lake Of Isles
North Stonington, CT
888-475-3746
www.lakeofisles.com
Michael Ferreira
Director of Catering and Sales
Stonington Meadows
Stonington, CT
860-572-1111
mferreira@coastalgourmetct.com
Keri Anne Gannon
Director of Catering and Sales
Coastal Gourmet
Stonington, CT
860-572-1111
kagannon@coastalgourmetct.com
Brian Langley
Asst. Food and Beverage Manager
Water's Edge Resort
Westbrook, CT
860-399-5901
www.watersedge-resort.com
Beverly Slattery
Asst. Banquet Manager
Groton Inn & Suites
Groton, CT
860-445-9784
800-452-2191
www.grotoninn.com
Tom Marsh
Food and Beverage Manager
Groton Inn & Suites
Groton, CT
860-445-9784
800-452-2191
www.grotoninn.com
Ashley Wilcox
Director of Catering
Mystic Marriott
Groton, CT
860-446-2600
awilcox@whghotels.com
Vandana Patel
Ramada
Groton, CT
860-446-0660
Kim Webster
Lodge Steward
Groton Elks Lodge
Groton, CT
860-445-2163
Elks Lodge #2163
Kimberly Aubin
Special Events Coordinator
Seamen's Inne
Mystic, CT
860-572-5305
www.mysticseaport.org
Amanda Brisson
Catering Sales Manager
Hilton Mystic
Mystic, CT
860-572-0731
www.hiltonmystic.com
Katie Cloudio
Director of Sales
Ramada Inn of Mystic (Best Western)
Mystic, CT
860-572-0252

www.bwmystic.com
Donna Chenette
Director of Ocean Blue Catering
Mystic Aquarium
Mystic, CT
860-572-5955 ext 336
dchenette@mysticaquarium.org
Kathy Lloyd
Special Events
Coordinator
Mystic Aquarium
Mystic, CT
860-572-5955 ext 337
lowens@mysticaquarium.org
Eric Perrin
Owner
Stonington Meadows
Stonington, CT
860-572-1111
eperrin@coastalgourmetct.com
Patrick Regan
Event Coordinator
Venice Banquet Facility
Westerly, RI
401-348-0055
Marilyn Sicord
Banquet Manager
Coast Guard Academy
Officer's Club
New London, CT
860-444-8459
Coast Guard Academy
Lisa Kasprzak
Catering Sales Manager
Radisson
New London, CT
860-443-7000 ext. 7811
lisa.kasprzak@radisson.com
Richard Walker
Catering Sales Manager
Holiday Inn
New London, CT
860-442-0631 ext. 464
rwalker@hinewlondon.com
Dee Dee Foster
Director of Catering
New London Country Club
New London, CT
860-443-6864 ext 304
peter@newlondoncountryclub.org
Debbie Balch
Banquet Manager
Ocean Beach Park
New London, CT
800-510-7263 option 6
www.ocean-beach-park.com
Sandy Grady
Banquet Sales
Ocean Beach Park
New London, CT
800-510-7263 option 6
www.ocean-beach-park.com
Debbie Itchkawich / Eric Veilleux
Catering Coordinator / Catering Chef
Old Tymes Catering
890-887-6865
debbieitchkawich@gmail.com
Jim Boucher
Weddings and Special Events Coordinator
The Spa At Norwich Inn
Norwich, CT
860-886-2401 ext. 682
www.thespaatnorwichinn.com
Katie Weber-Coleman
Director of Sales
Holiday Inn
Norwich, CT
860-889-5201
katie@chelsearose.com
Linda Warner
Event Coordinator
Wright's Mill
Canterbury, CT
860-774-1455
www.wrightsmillfarm.com
Liz Sullivan
Director of Catering
Saybrook Point Inn
Old Saybrook, CT
860-395-2000
www.saybrook.com
Ellen Belmont
Social Sales Manager
Saybrook Point Inn
Old Saybrook, CT
860-395-2000
www.saybrook.com
Courtney Galligan
Caterer
Cloud 9 Catering
Old Saybrook, CT
860-388-9999
Elizabeth Phillips
Wedding Administrator
Water's Edge Resort
Westbrook, CT
860-399-5901
www.watersedge-resort.com
Stephanie Clark
Wedding Coordinator
Hilton Garden Inn
Groton, CT
860-445-6800 x708
Mary Anne Tursi
Catering Sales Manager
Inn At Middletown
Middletown, CT
806-854-6300
www.innatmiddletown.com/
maryanne.tursi@ihrco.com
Beth Sullivan
Events Coordinator
Tamarack Lodge
Voluntown, CT
860-376-0224
Ed Adams
Ashley Welles
Adam's Garden Of Eden
Pawcatuck, CT
860-599-4241
Erica Cyr
Events Manager
Jonathan Edwards Winery
860-535-0202
erica@jedwardswinery.com
Judy Fleetwood
Events Coordinator
Saint Clement's Castle
Portland, CT
860-342-0593
www.saintclementscastle.com/
Susan King
Dining Room Manager
Old Lyme Country Club
Old Lyme, CT
860-434-9728
www.oldlymecountryclub.com
Frank Schroll Jr.
Vice President
Glastonbury Hill's Country Club
South Glastonbury, CT
860-633-5253
www.glastonburyhills.com
Silvio Suppa
Owner / Chef
The Woodwinds
Branford, CT
203-481-6577
www.thewoodwinds.com
Gretchen Higgins
Events Coordinator
Mystic Arts Center
860-536-7601
www.mystic-art.org
Bill Ragowski
Events Manager
Polish American Citizens Club
Uncasville, CT
860-848-7287
860-848-1899
Polish Clubs
Diana Wahlberg
Manager
My Mary's Restaurant
Westerly, RI
401-322-0444
(no known website)
Pietro Camardella
Professional
Photographer
Artphoto By Pietro
Norwich, CT
860-886-2388
(no known website)
Joe R.Shell
Danette L. Shell
Professional
Photographers
Shell Photography
New London, CT
860-440-2560
800-725-7917
www.shellphotography.net
Tracy Lambert
Professional Photographer
TLC Photography Willimantic, CT
860-450-0044
(no known website)
Martha Reed
Bridal Wear & Tuxedos
Traditions
Haddam, CT
860-345-7750
(no known website)
Krystine Kelly
Owner
Eventful Planning
Preston, CT
860-886-4566
KryseKelly@juno.com
Amarante's Sea Cliff - New Haven, CT
Serving Connecticut for 50 years, Amarante's Sea Cliff has built quite the reputation. Incredible location, scrumptious food, ambiance unmatched in the area, and most importantly, outstanding service.
Aqua Turf Club - Plantsville, CT
Located on 30 acres of beautifully manicured grounds. Our 4 banquet rooms can accommodate weddings from 125-1600 guests. The grounds are manicured year-round to create the perfect backdrop for your wedding photographs. Garden paths lead you to some of the most picturesque locations with gazebos, fountains, and even a windmill.
Avon Old Farms Hotel - Avon, CT
The Avon Old Farms Hotel is the picture perfect setting for your CT wedding. Our elegant Georgian colonial style decor boasts brilliant chandeliers, a marble foyer, antique furnishings and a stunning three-story sweeping staircase leading to our Atrium Lobby creating a grand sense of arrival for your guests.
The Barns at Wesleyan Hills - Middletown, CT
The Barns at Wesleyan Hills offer a charming country setting that is perfect for Wedding Ceremonies, Receptions and Banquets. The rustic, spacious Barns are located on beautifully manicured grounds that include sprawling lawns and willow-shaded ponds.
The Bond Ballroom - Hartford, CT
We can host your event at our elegant facilities at the newly renovated Bond Hotel in downtown Hartford or at a location of your choosing. Our legendary services have been featured in Connecticut Magazine, Connecticut Bride, Hartford Magazine and the Hartford Courant.
Cascade - Hamden, CT
5 acres of picturesque surroundings makes the perfect year-round setting for your Connecticut wedding.
Crocker House Ballroom - New London, CT
The Grand Ballroom is an elegant space. It has been recently renovated and boasts coffered ceilings, antique beveled-glass windows, tapered columns, hand-blown Merano glass chandeliers and leads out to our beautifully landscaped Garden Courtyard.
Eolia, The Mansion at Harkness - Waterford, CT
Enjoy the panoramic views of Long Island Sound from Eolia, the elegant summer mansion of the Harkness family set on over 230 seaside acres of sweeping lawns, with stately trees and spectacular gardens. Eolia is available for weddings, private parties, seminars, conferences, luncheons and teas.
The Harvest - Pomfret, CT
Our beautiful Celestial Ballroom is a gracious room to have your classic Connecticut wedding.
The Fox Hill Inn - Brookfield, CT
With romance of yesteryear - reminiscent of days gone by, take an elegant journey into the past for your storybook Connecticut wedding at The Fox Hill Inn. The Fox Hill Inn with its understated elegance is a stunning Victorian Mansion from its grand staircase to the warmth of the cozy fireplace.
Hill-stead Museum - Farmington, CT
Connecticut Magazine named Hill-Stead one of nine "most-out-of- the-ordinary places Connecticut has to offer for wedding receptions." With hilltop views of the Litchfield hills, expansive acreage, a sunken garden and historic indoor spaces, Hill-Stead is an exceptional venue for wedding ceremonies, wedding receptions and photo sessions.
The Inn at Woodstock Hill - Woodstock, CT
Situated on sixteen acres of rolling countryside, our charming Connecticut Inn affords its guests breathtaking views of the surrounding hills, valleys, and meadows as the seasons change. Rustic stone walls border the terraces, and gardens with their perennial flowers and foliage provide a charmingly colorful backdrop for the quintessential Connecticut wedding.
The Inn at Mystic - Mystic, CT
The Inn, a lovely Colonial Revival mansion was built in 1904. This beautiful building overlooks Mystic Harbor and Long Island Sound and is surrounded by magnificent grounds consisting of formal gardens, a waterfall, meadow pond and spacious lawns for your formal wedding photos.
Lake of Isles - North Stonington, CT
The natural beauty of the Connecticut woods sets the scene for a beautiful waterfront wedding ceremony adjacent to our clubhouse and pristine golf courses. Large bay windows in the Pequot Village Ballroom provide sweeping panoramic views of picturesque Lake of Isles, while warm earth tones, rich oak woodwork and fine artisanship create the perfect setting for an unforgettable wedding reception in the beautiful Connecticut countryside.
The Lighthouse Inn - New London, CT
This exquisitely restored Victorian mansion offers everything wedding dreams are made of...ocean view bridal suites and reception rooms, sculptured fountain, lush gardens, picturesque gazebos and a private beach. With 50 gracious, antique-filled guestrooms, impeccable service, a great lawn for outdoor celebrations and creative wedding packages, we can turn your Connecticut wedding into a unique romantic, magical experience for you and your guests.
The Lord Thompson Manor - Thompson, CT
A Country Inn perfect for "dream-come-true" wedding receptions. Whether grand, intimate, or wildly extravagant, Lord Thompson Manor has a wonderful way of bringing romance and individuality that ensures a CT wedding day as perfect as any Bride could dream of. Our James Beard Foundation celebrated Chefs and our outstanding service compliment this stately 30 room Manor House has been reborn as the Lord Thompson Manor specializing in wedding receptions.
The Mansion at Bald Hill - Woodstock, CT
Step back in time. You are invited to a summer residence built with grace and elegance during the Industrial Age. Enjoy the serenity of a century ago still preserved in the last remaining green valley in the Northeast Connecticut corridor. Enjoy rooms of substance while surrounded by the pastoral beauty of the Bald Hill property.
Mohegan Sun- Uncasville, CT
Mystic Aquarium - Mystic, CT
The Norwich Inn - Norwich, CT
Inside our Inn, you will find a range of well-appointed event rooms, from the stately Grand Ballroom to the secluded Conservatory. Some feature working fireplaces, ensuring the ambience of a magical CT wedding experience. For outdoor functions, we offer forty-two acres of groomed Connecticut countryside, including an oval reflecting pool with fountains, rock gardens, and an oversized deck overlooking our country scenery.
St. Clements Castle - Portland, CT
Enter the grounds of Saint Clements Castle and you are transported to a world of civilized grace and old European charm. The stress of modern life falls away as you survey the idyllic surroundings — the meticulously landscaped sunken gardens, gracious courtyards and manicured lawns surrounding this classic example of French Tudor and Bavarian architecture complete with spectacular water views of the Connecticut River. Now restored to its original grandeur and complemented with an extraordinary staff and superb food and beverage facilities, the castle awaits your CT wedding ceremony and reception.
Saybrook Point Inn & Spa - Old Saybrook, CT
Our remarkable waterfont location is one of Connecticut's most sought after venues for wedding receptions and garden terrace ceremonies. The Saybrook Point Inn and Spa has spent the last 15 years hosting your Big Day! Our trusted professionals are dedicated to delivering every detail.
The Simsbury 1820 House - Simsbury, CT
Our professional and experienced staff is here to assist you in planning each detail of your Connecticut wedding ceremony and reception.
The Simsbury Inn - Simsbury, CT
A luxurious 100-room, full service hotel designed in the gracious style of a New England country inn. Conveniently located just minutes from the city of Hartford and Bradley International Airport, we are nestled in the refreshing Connecticut hills of the idyllic Farmington River Valley, replete with its many historic and recreational attractions.
Tyrone Farm - Pomfret, CT
Provides a lovely setting for a country Connecticut wedding. Guests are welcome to stroll through charming English Formal Garden and enjoy the breathtaking views of the Connecticut countryside from our patio. Tyrone Farm's restored chestnut Barn provides an intimate and charming setting for wedding ceremonies or receptions.
A Villa Louisa - Bolton, CT
The Wadsworth Mansion at Long Hill Estate - Middletown, CT
Water's Edge Resort - Westbrook, CT Unparalleled ambience, seamless service and outstanding food will create wonderful memories that last a lifetime. Our distinctive banquet facilities include outdoor garden terraces and lawns offering a magnificent setting for wedding ceremony and cocktail reception. The reception continues with dinner and dancing in one of our ballrooms, featuring panoramic ocean views.